Highlighting the articles in the past editions of the Journal of Screenwriting, of which I am the Book Reviews Editor. Hopefully these abstracts will entice you to did a little deeper into the history and future of screenwriting. — Rosanne
---
Creating Authorship? Lindsay Anderson and David Sherwin's collaboration on If. (1968) by Isabelle Gourdin-Sangouard
 
This article draws upon the research currently undertaken for my doctoral thesis and is meant to act as a complementary study of Lindsay Anderson and David Sherwin's partnership on If. (1968), following Charles Drazin's 2008 article for the Journal of British Cinema and Television, If before If. Charles Drazin (2008: 318) highlights the idea of a creative dynamic underlying the working partnership between Lindsay Anderson and David Sherwin on If., as well as in the subsequent projects they developed together. The following article aims to uncover the nature of the creative dynamic suggested by Drazin's article by looking at both the personal and the artistic dimensions that the working relationship assumed. The aim is to highlight the distinctiveness of their collaboration in the cinema; the article will show that in the course of this collaborative work they realized their artistic potential through an exchange of expertise, and that their collaboration helped to bring about an alternative approach to the conventional opposition between screenwriter and director, especially when it comes to claiming authorship over a film.
---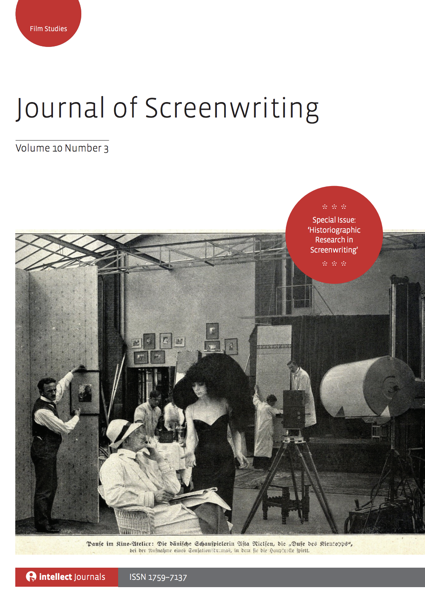 The Journal of Screenwriting is an international double-blind peer-reviewed journal that is published three times a year. The journal highlights current academic and professional thinking about the screenplay and intends to promote, stimulate and bring together current research and contemporary debates around the screenplay whilst encouraging groundbreaking research in an international arena. The journal is discursive, critical, rigorous and engages with issues in a dynamic and developing field, linking academic theory to screenwriting practice. 
Get your copy and subscription to the Journal of Screenwriting Today!
---
* A portion of each sale from Amazon.com directly supports our blogs
** Many of these books may be available from your local library. Check it out!