Highlighting the articles in the past editions of the Journal of Screenwriting, of which I am the Book Reviews Editor. Hopefully these abstracts will entice you to did a little deeper into the history and future of screenwriting. — Rosanne
---
Collaboration and control in the development of Janet Green's screenplay Victim by Jill Nelmes
This article discusses the draft screenplays and correspondence held in the Janet Green collection concerned with the writing of Victim (1961), one of three social issue films that Green wrote for producer Michael Relph and director Basil Dearden. Victim was the first film to openly depict homosexuality in Britain and went through a long and difficult development process. From the letters we find out about the complex relationship between those developing the film and the tensions during the writing of the different drafts. The collection is especially interesting because the correspondence not only allows a study of the writer and the producer/director/writer relationship but also, in the case of Victim, the role of the British Board of Film Censors as well as the participation of Green's husband, John McCormick and lead actor Dirk Bogarde. The complex mix of argument, negotiation and collaboration suggests a struggle for control of ideas in the development process between the players involved. How decisions are made as to the content of each draft is recorded in the letters, allowing a fascinating picture to build up about the creation of the screenplay, which, as Janet Green explains, was written with the shadow of the censor's axe (JG 10/6: 25/10/60).
---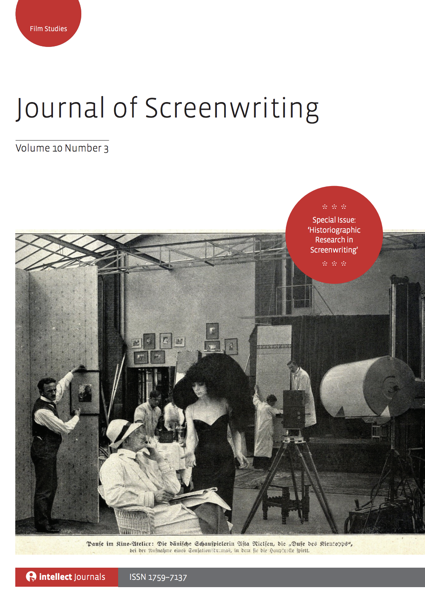 The Journal of Screenwriting is an international double-blind peer-reviewed journal that is published three times a year. The journal highlights current academic and professional thinking about the screenplay and intends to promote, stimulate and bring together current research and contemporary debates around the screenplay whilst encouraging groundbreaking research in an international arena. The journal is discursive, critical, rigorous and engages with issues in a dynamic and developing field, linking academic theory to screenwriting practice. 
Get your copy and subscription to the Journal of Screenwriting Today!
---
* A portion of each sale from Amazon.com directly supports our blogs
** Many of these books may be available from your local library. Check it out!