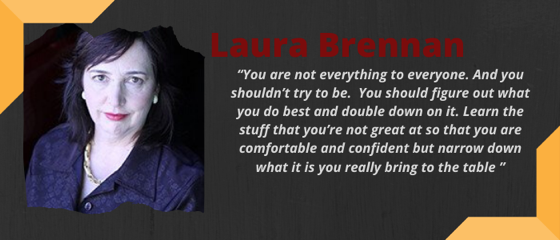 Subscribe to the Podcast with iTunes | TuneIn
Podcast: Play in new window | Download
Subscribe: Google Podcasts | RSS
Laura Brennan's eclectic writing career includes television, film, theater, web series, fiction and news. Behind the scenes, she has helped production companies develop movies, TV pilots and limited series. She has taught pitching workshops to executives at Netflix and Film Victoria, as well as MFA programs and undergraduate classes at universities including Stephens College, University of California, Los Angeles, University of Southern California, Boston University and National University.A graduate of Yale University, Brennan has won awards for journalism, television writing and fiction. Her children's book, Nana Speaks Nanese, tackles the confusing changes brought on by dementia in a reassuring and straightforward way. She hopes it will help families facing a diagnosis of dementia open up a conversation with their young children. Her web series Faux Baby is also for parents, but it is definitely not for children—or even safe for work.
"You are not everything to everyone. And you shouldn't try to be.  You should figure out what you do best and double down on it. Learn the stuff that you're not great at so that you are comfortable and confident but narrow down what it is you really bring to the table " -Laura Brennan
Presented by Stephens College MFA in TV and Screenwriting
---
Visit the Stephens College MFA in TV and Screenwriting for more information.
Follow and Like the Stephens College MFA in TV and Screenwriting