Highlighting the articles in the past editions of the Journal of Screenwriting, of which I am the Book Reviews Editor. Hopefully these abstracts will entice you to did a little deeper into the history and future of screenwriting. — Rosanne
---
The aesthetic independence of the screenplay by M.-R Koivumki
  
The aesthetic independence of an artwork is usually defined by the direct relationship between the viewer and the artwork. The screenplay, however, is actualized for the viewer only via cinematic performance. Therefore, we should ask how the viewer experiences the performance and to what extent this experience is created by the contribution of the screenplay, and especially which elements are realized in the presentation and contribute to building up the performance for the viewer to experience.The approach I am leaning on, and through which I am hoping to gain new insights into the aesthetic independence, is dramaturgical and thus practice-based. The common hermeneutic approach in artistic research usually defines what the artworks are and how they exist in our world as cultural phenomena. Through the dramaturgical approach I explore how the screenplay functions within the presentational process.I discuss the contribution of the screenplay as a literary artwork by asking how the literary characteristics of the screenplay appear in a film and their function in the performance. I also explore the screenplay's contribution from the viewer's point of view. Here I am not leaning on the perception theories; instead I am using my own observation of the cinematic performance. Lastly, I discuss the dramaturgical process as an interpretive continuum that leads from the screenwriter to the viewer.
---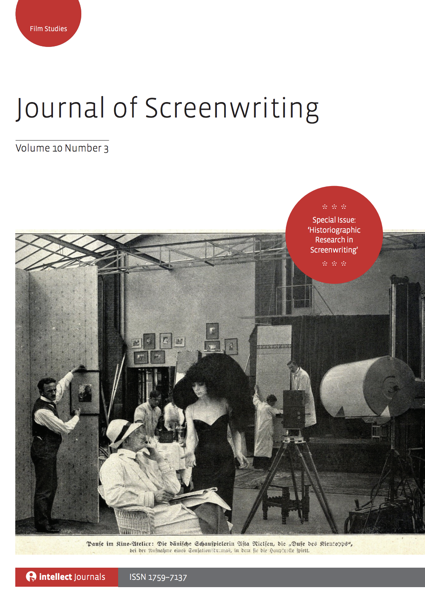 The Journal of Screenwriting is an international double-blind peer-reviewed journal that is published three times a year. The journal highlights current academic and professional thinking about the screenplay and intends to promote, stimulate and bring together current research and contemporary debates around the screenplay whilst encouraging groundbreaking research in an international arena. The journal is discursive, critical, rigorous and engages with issues in a dynamic and developing field, linking academic theory to screenwriting practice. 
Get your copy and subscription to the Journal of Screenwriting Today!
---
* A portion of each sale from Amazon.com directly supports our blogs
** Many of these books may be available from your local library. Check it out!