Highlighting the articles in the past editions of the Journal of Screenwriting, of which I am the Book Reviews Editor. Hopefully these abstracts will entice you to did a little deeper into the history and future of screenwriting. — Rosanne
---
The first screenplays? American Mutoscope and Biograph scenarios revisited by Steven Price
This article builds on the earlier work of Patrick Loughney in discussing a series of texts written by Frank J. Marion and Wallace McCutcheon, and registered by American Mutoscope & Biograph (AM&B) at the Library of Congress in 1904–05. It assesses the arguments for regarding these as the earliest surviving texts that were written specifically in order to be filmed. Significant historical contexts include copyright disputes between the studios, developments in narrative film since 1902, and the problematic classification system at the Library of Congress that prompted AM&B to register a sequence of films as both 'photographs' and 'dramatic compositions'. A comparison of the scenarios to the films provides evidence that they were written prior to filming. The formal arrangement of the scenarios is almost indistinguishable from that for contemporary playscripts, which may have been due to a deliberate attempt to facilitate their registration as 'dramatic compositions'.
---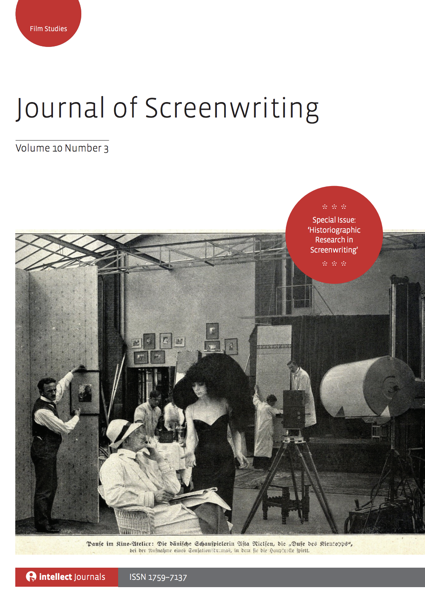 The Journal of Screenwriting is an international double-blind peer-reviewed journal that is published three times a year. The journal highlights current academic and professional thinking about the screenplay and intends to promote, stimulate and bring together current research and contemporary debates around the screenplay whilst encouraging groundbreaking research in an international arena. The journal is discursive, critical, rigorous and engages with issues in a dynamic and developing field, linking academic theory to screenwriting practice. 
Get your copy and subscription to the Journal of Screenwriting Today!
---
* A portion of each sale from Amazon.com directly supports our blogs
** Many of these books may be available from your local library. Check it out!