Highlighting the articles in the past editions of the Journal of Screenwriting, of which I am the Book Reviews Editor. Hopefully these abstracts will entice you to did a little deeper into the history and future of screenwriting. — Rosanne
---
Greenaway's books: Peter Greenaway's published screenplays by Miguel Mota
Greenaway's published screenplays – screenplays produced and consumed as discrete material objects – function both as fluid, hybrid texts and as material books that stand ambivalently and therefore suggestively and productively poised between print and film technologies. Ranging from the early scripts published by Faber and Faber in the mid-to-late 1980s to the later and still-ongoing series of scripts produced by the French publisher Dis Voir, Greenaway's published screenplays are fascinating examples of print film texts that produce and demand unique ways of reading and looking. By addressing these books as visual and material objects, distinct from the films, we might evince and extract from the pages of these published screenplays entirely new texts with a plurality of narrative possibilities, in which juxtapositions and relationships amongst different cultural discourses can give rise to innovative visual and verbal structures. Such an approach to Greenaway's published film scripts as material events might contribute a curious but compelling chapter to the history of the ontology of the screenplay, affording the published script a visibility it often otherwise lacks.
---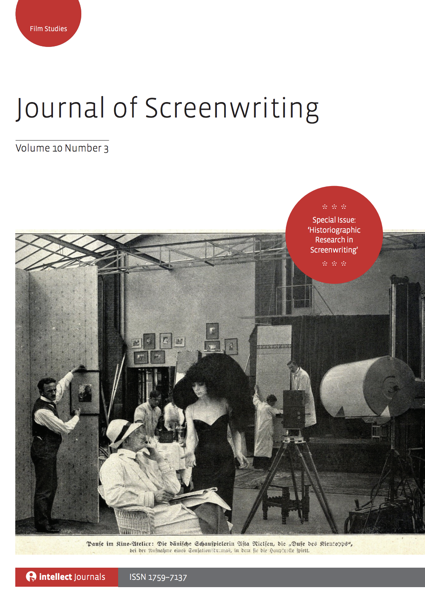 The Journal of Screenwriting is an international double-blind peer-reviewed journal that is published three times a year. The journal highlights current academic and professional thinking about the screenplay and intends to promote, stimulate and bring together current research and contemporary debates around the screenplay whilst encouraging groundbreaking research in an international arena. The journal is discursive, critical, rigorous and engages with issues in a dynamic and developing field, linking academic theory to screenwriting practice. 
Get your copy and subscription to the Journal of Screenwriting Today!
---
* A portion of each sale from Amazon.com directly supports our blogs
** Many of these books may be available from your local library. Check it out!