Highlighting the articles in the past editions of the Journal of Screenwriting, of which I am the Book Reviews Editor. Hopefully these abstracts will entice you to did a little deeper into the history and future of screenwriting. — Rosanne
---
An uneven marketplace of ideas: Amateur screenwriting, the Library of Congress and the struggle for copyright by Torey Liepa
In 1912, with demand for story material increasing in a growing market, writing was becoming ever more essential to commercial film production in the United States. With several important legal developments that year, however, the marketplace for story material would begin to collapse as amateur screenwriters failed to gain the same legal protections as those producing finished films, rendering their creative material entirely susceptible to piracy from above. Despite several initiatives by advocates for non-professional writers and a few members of Congress, screenwriters would not receive legal protection for unpublished material until 1978. Throughout the Golden Age of Hollywood, then, but dating back to the origins of copyright protection for finished commercial films, US copyright law encouraged Hollywood to produce story material in a closed, intellectually isolated and commercially protected shop, more closely resembling an enigmatic 'culture industry' than a 'people's art form'. This article examines a convergence of state institutions, private enterprise and commercial trade press that helped to radically re-define the creative processes underwriting film production and the system of compensation for creative material that would delimit relations of production at the beginnings of the American film industry.
---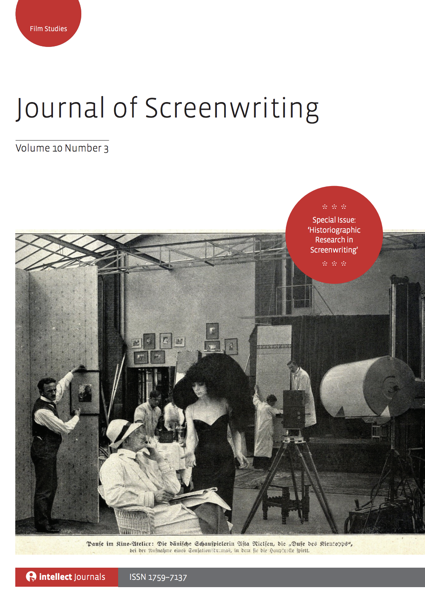 The Journal of Screenwriting is an international double-blind peer-reviewed journal that is published three times a year. The journal highlights current academic and professional thinking about the screenplay and intends to promote, stimulate and bring together current research and contemporary debates around the screenplay whilst encouraging groundbreaking research in an international arena. The journal is discursive, critical, rigorous and engages with issues in a dynamic and developing field, linking academic theory to screenwriting practice. 
Get your copy and subscription to the Journal of Screenwriting Today!
---
* A portion of each sale from Amazon.com directly supports our blogs
** Many of these books may be available from your local library. Check it out!