Highlighting the articles in the past editions of the Journal of Screenwriting, of which I am the Book Reviews Editor. Hopefully these abstracts will entice you to did a little deeper into the history and future of screenwriting. — Rosanne
---
Storyworld: the Bigger Picture, investigating the world of multi-platform/transmedia production and its affect on storytelling processes by Anna Zaluczkowska
My investigations into transmedia and multi-platform production practices reveal that writers for film and TV could soon need to become content creators (directors or producers or craftspeople in addition to being writers), blurring the distinctions between concept, creation, production and post-production. This article explores this phenomenon of multi-platform/transmedia production, mostly in the United Kingdom, and in particular its storytelling processes through a study of a small but successful company, Bellyfeel, based in Manchester, United Kingdom. Bellyfeel have given me complete access to their work and established an online environment where I can study their practice/writing. I will contextualize the creative practice of the company with the work of Henry Jenkins, and suggest that, in the contemporary marketplace, it may be necessary for the writer to be focused on the production process and the technological aspects of this process in order to understand how product is created and functions in this new environment.
---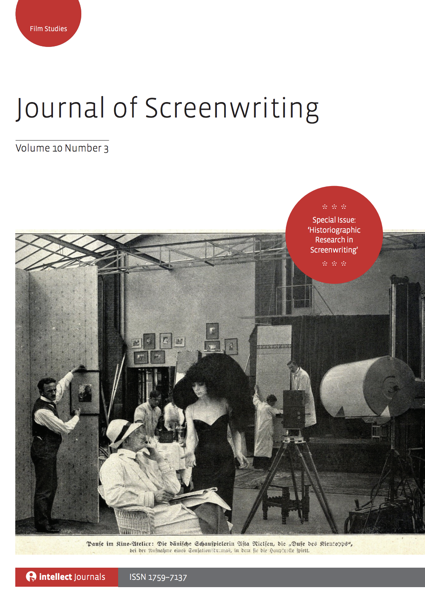 The Journal of Screenwriting is an international double-blind peer-reviewed journal that is published three times a year. The journal highlights current academic and professional thinking about the screenplay and intends to promote, stimulate and bring together current research and contemporary debates around the screenplay whilst encouraging groundbreaking research in an international arena. The journal is discursive, critical, rigorous and engages with issues in a dynamic and developing field, linking academic theory to screenwriting practice. 
Get your copy and subscription to the Journal of Screenwriting Today!
---
* A portion of each sale from Amazon.com directly supports our blogs
** Many of these books may be available from your local library. Check it out!