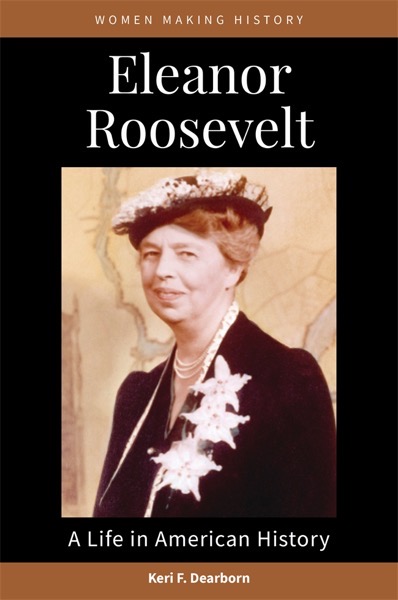 Buy at Your Local Bookstore | Bookshop.org | Amazon | ABC-CLIO
It's time to celebrate the latest book in our series to be published – Keri Dearborn's Eleanor Roosevelt: A Life in American History landed on my doorstep yesterday and I couldn't be more excited to read it (even though I've already read it to edit it). It comes on the tail of my having watched The First Lady series on Showtime which we hope has interested a new generation in the life and times of this amazing woman.
As with all of our authors in the series, Keri's research was fascinating to follow – my favorite new fact was learning (thanks to the release of new primary documents) that the scientists who talked to FDR about the Manhattan Project weren't able to make an appointment with the president – but one of them was in a social club with Mrs. Roosevelt and used that connection to talk to her first. She's the one who told FDR he had to meet with them.
Those are the great details all of our authors have found (or are still finding in the books that are being completed in the next year or so). We thank the authors whose books have been published (covering Ruth Bader Ginsburg, Gloria Steinem, Hilary Clinton, and Helen Keller) – and look forward to the ones yet to come which cover the lives of Wilma Mankiller, Ida B. Wells, Sally Ride, and Delores Huerta.
Women Making History Series Description

Women Making History is a series of single-volume books that examine the lives and historical impact of the most iconic figures in American Women's history.

Books in the Women Making History series explore the lives and contributions of important women in American history. Each volume goes beyond biographical details to consider historical context and explicitly discuss the world in which the individual lived and worked, the challenges she faced, and her lasting contributions. This approach allows readers to explore not just the life of a particular woman but also her various political, social, cultural, and historical contexts. In addition to chronological chapters, sidebars, a timeline, document excerpts, and a bibliography, an introductory chapter explores the cultural and historical significance of the individual and places her in the overall historical context, as well as how her actions, beliefs, or positions influenced not only women's history but history as a whole.