Watch this entire presentation: Gender Diversity in the Who-niverse: Paving the Way for a Lady Doctor with Dr. Rosanne Welch [Video] (36:58)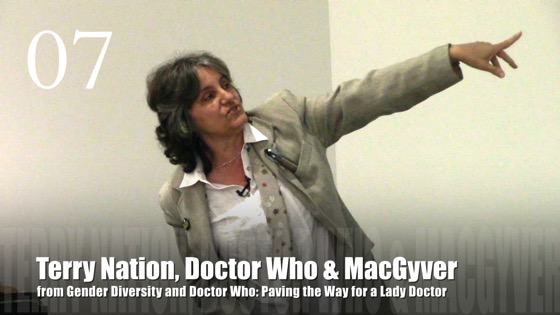 For her 5th Doctor Who lecture to the CPP community, Dr. Rosanne Welch discusses how society – and the show's writing staff – prepared the audience for a major change in this 50-year franchise – the creation of the first Lady Doctor!
Transcript:
Later in the era of Doctor Who we get Terry Nation and Terry Nation is a really cool writer. He invented the Daleks. So without him, we wouldn't have the world's coolest villains, right? We wouldn't be able to "Exterminate" any time we wanted. So I think that's really cool, but what's excellently interesting to me about Terry Nation as a writer is that he also invented this character, Sara Kingdom and she's a secret agent who changes sides to work with the Doctor. She's a bad girl who uses her badness to help the good guy. So that was a concoction of Terry Nation's in the early days of the show and then you're asking yourself "why is this old picture of MacGyver up there?" How did this one thing affect another, exactly? Terry Nation came from England and over to the states to work in America in television and he helped create MacGyver.
Follow Dr. Welch on Twitter and Instagram
https://twitter.com/rosannewelch – http://instagram.com/drrosannewelch
---
Dr. Rosanne Welch
Dr. Rosanne Welch teaches the History of Screenwriting and One-Hour Drama for the Stephens College MFA in Screenwriting.
Writing/producing credits include Beverly Hills 90210, Picket Fences, ABCNEWS: Nightline and Touched by an Angel. In 2016 she published the book Why The Monkees Matter: Teenagers, Television and American Pop; co-edited Women in American History: A Social, Political, and Cultural Encyclopedia; and placed "Transmitting Culture Transnationally Via the Characterization of Parents in Police Procedurals" in the New Review of Film and Television Studies. Essays appear in Torchwood Declassified: Investigating Mainstream Cult Television and Doctor Who and Race: An Anthology. Welch serves as Book Reviews editor for Journal of Screenwriting and on the Editorial Advisory Board for Written By magazine, the magazine of the Writers Guild.
Watch Dr. Welch's talk "The Importance of Having a Female Voice in the Room" at the 2016 TEDxCPP.
Podcast: Play in new window | Download
Subscribe: Google Podcasts | RSS