Watch this entire presentation
The Sisterhood of Science Fiction: A Walk Through Some Writers and Characters You (Should) Know And Love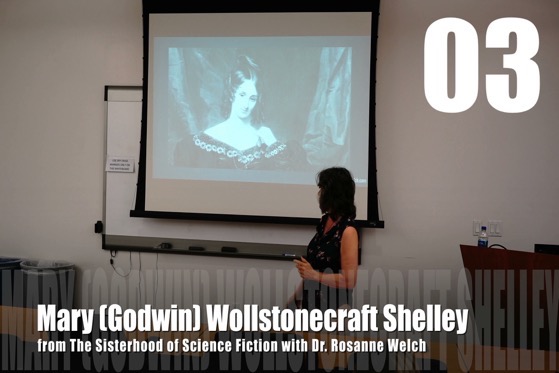 This one allowed me to riff on some of my favorite female science fiction writers across time, whether they be novelists or television writers. It also opened up a good conversation on what art we support and include in our lives – and what that art says to us and about us. — Rosanne
Transcript:
First off I'm gonna start with the officially the grandmother of science fiction. Somebody knows who she is. Shelley. Thank You. Mary Shelley, Mary Wollstonecraft Shelley. Mary Godwin Wollstonecraft Shelley. The lady had a lot of names right? Yes, Mary Shelley is most famous. She literally invented the genre and its funny because when we think of science fiction we often do think of the names of famous male writers. They kind of took it over when, you know, men you got to do more of the cool stuff, but Mary invented it and she invented it with what character? Frankenstein! Exactly. She's the lady — then I mean she was having a party. We're not sure how drunk everybody was and exactly what substances they might have been imbibing at that time but her and Lord Byron, her boy or her boyfriend slash soon-to-be husband Percy Bysse Shelley. They all were hanging out with this really cool sort of villa in Italy and they were having a contest — which is also very fun. Instead of watching other people's art, they were making their own and the contest was can you write a ghost story over the weekend and we'll see who writes the best one.
---
* A portion of each sale from Amazon.com directly supports our blogs
** Many of these books may be available from your local library. Check it out! 
Podcast: Play in new window | Download
Subscribe: Google Podcasts | RSS