On Friday, August 9th, I had the great pleasure of moderating a panel on working mom screenwriters for the Stephens College MFA in TV and Screenwriting and hosted by Writers Guild Foundation.
I thank them for being so honest and real about describing the way they balance the lives they love and the work they love.  It's never easy for any of us and sometimes that's the best lesson of all. Though each of the writers talked about how the skills of being a mother are so perfectly attuned to the nurturing and multitasking required of showrunners in television.
We also learned about offices that have nurseries provided for their writing staff and the fact that, as with all things in life, moms have to make tough decisions between being on set when your pilot is filming or catching your 2nd grader's talent show… But we also all admitted that it's a privilege to make the stories that are watched by other people's children – and to share stories with your own children all their lives. — Rosanne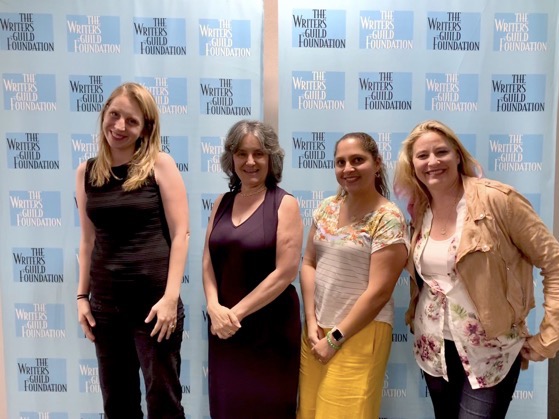 From the Writers Guild Foundation…
Talking TV writing and motherhood with writers/producers and working moms Julia Brownell (THIS IS US), @jamiedenbo (AMERICAN PRINCESS), Valentina Garza @totalvaligirl (JANE THE VIRGIN), and moderator @RosanneWelch.
Follow and Like the Stephens College MFA in TV and Screenwriting on Facebook