Mentoris Project Podcast: Relentless Visionary: Alessandro Volta With Author, Michael Berick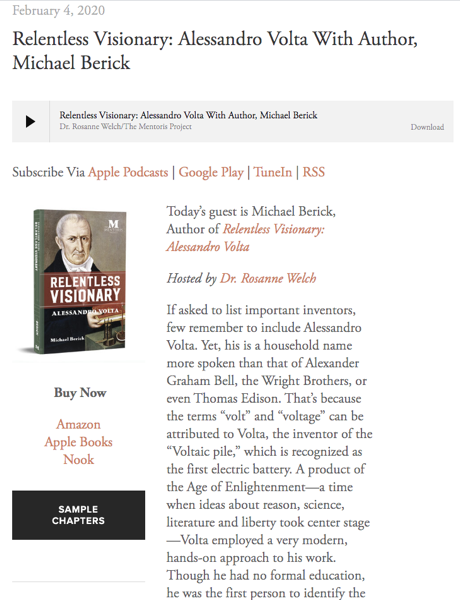 Read Relentless Visionary: Alessandro Volta
Podcast: Play in new window | Download
Subscribe: Google Podcasts | RSS
Subscribe Via iTunes | Google Play | TuneIn | RSS
---
If asked to list important inventors, few remember to include Alessandro Volta. Yet, his is a household name more spoken than that of Alexander Graham Bell, the Wright Brothers, or even Thomas Edison. That's because the terms "volt" and "voltage" can be attributed to Volta, the inventor of the "Voltaic pile," which is recognized as the first electric battery. A product of the Age of Enlightenment—a time when ideas about reason, science, literature and liberty took center stage—Volta employed a very modern, hands-on approach to his work. Though he had no formal education, he was the first person to identify the gas known as methane, and created the first authoritative list of conducting metals. Alessandro Volta saw things not just as they were, but as what they could be. He was a disrupter, an innovator and a visionary. Above all, he was relentless. Without Volta's hunger to create and his drive to invent and discover, we might not have electric cars, laptops, cellphones, and hearing aids today.
---
About the Author
Michael Berick is a writer and journalist, whose work has appeared in outlets such as the Los Angeles Times, Entertainment Weekly, LA Weekly, AAA Westways Magazine, and the San Francisco Chronicle. He has written about European chocolate destinations, reviewed artist Ed Ruscha's retrospective, and penned press material for the Grammy-nominated boxset, Battleground Korea: Songs And Sounds Of America's Forgotten War. He also might possibly be the only music critic to have voted in both the Fids and Kamily Music Awards and the Village Voice's annual Pazz & Jop Poll. Hailing from Cleveland, Ohio, Berick currently lives in Los Angeles with wife, playwright/screenwriter Jennifer Maisel, and their daughter and dog.
Follow @mentorisproject on Instagram
Visit the Mentoris Project for more!
---
Also from the Mentoris Project
Want to use these books in your classroom? Contact the Mentoris Project!`