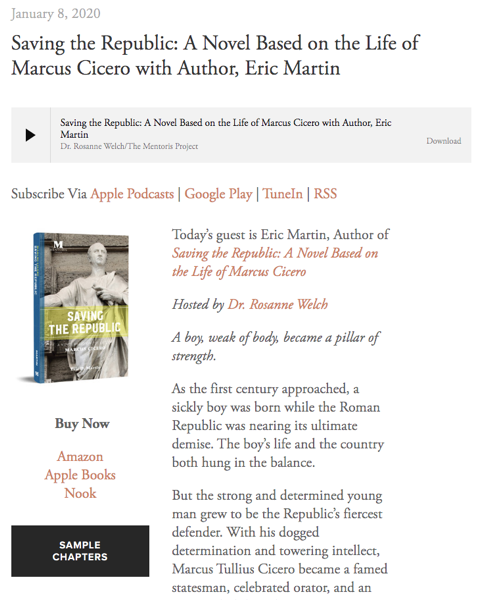 Read Saving the Republic: A Novel Based on the Life of Marcus Cicero by Eric Martin
Podcast: Play in new window | Download
Subscribe: Google Podcasts | RSS
Subscribe Via iTunes | Google Play | TuneIn | RSS
---
A boy, weak of body, became a pillar of strength.
As the first century approached, a sickly boy was born while the Roman Republic was nearing its ultimate demise. The boy's life and the country both hung in the balance.  
But the strong and determined young man grew to be the Republic's fiercest defender. With his dogged determination and towering intellect, Marcus Tullius Cicero became a famed statesman, celebrated orator, and an esteemed philosopher.  
Surviving civil wars, political intrigues, and assassination attempts, Cicero pushed against the grain, standing steadfastly in support of the Republic, even when it threatened his career—or his life.
---
About the Author
Eric D. Martin is a novelist and screenwriter. He has a BA in film studies from the University of California, Santa Barbara, and an MFA in screen and television writing from Pepperdine University. While studying at Pepperdine, Martin served as president of the student film society, Courier 12, and was a semifinalist for the Academy of Arts and Sciences Nicholl Fellowship. Recently, Martin adapted the novel The Liar's Chair for the screen and wrote the popular Lifetime thriller, The Other Mother. Currently, he is writing for the premium cable television drama Heels and for Starz, and developing the TV comedy King Elizabeth. 
Follow @mentorisproject on Instagram
Visit the Mentoris Project for more!
---
Also from the Mentoris Project
Want to use these books in your classroom? Contact the Mentoris Project!`