Months of research went into the creation of the essays in "When Women Wrote Hollywood." Here are some of the resources used to enlighten today's film lovers to the female pioneers who helped create it.
From The "When Women Wrote Hollywood Archives 28: Narrative 'Confidence Games': Framing the Blonde Spectacle in Gentlemen Prefer Blondes (1925) and Nights at the Circus (1984)
"So tomorrow we will be in England bright and early. And I really feel quite thrilled because Mr. Eisman sent one a cable this morning, as he does every morning, and he says to take advantage of everybody we meet as traveling is the highest form of education." Lorelei Lee in Gentlemen Prefer Blondes)

What makes Lorelei Lee from Anita Loos's novel Gentlemen Prefer Blondes (Gm) on appealing is her ability to manipulate her own image and effectively become miswess of her own grand confidence game. Throughout the novel, it is clear that Lorelei is aware of herself as an image, and she constantly adjusts this image whew "take advantage. of the situation aromd her. In effect, she is smaner than she looks, and she uses this to her rhetorkal (and financial) ad-vantage. Recently. Christina Britzolakis has questioned the viability of reading the"ferninine spectacle" as a particularly feminist undertaking? Although Brit-zolakis is right to point to the patriarchal underpinnings that inform the male gaze,' argue that the rhetorical construction of the wise-cracIdng, self-reflexive blonde often enacts a critique on the system of commodification and ob-jectification that she appears to uphold, thus meriting more critical and schol-arly attention.' More specifically, tlotestigste the parallel rhetorical strategies in Anita Loos's novel Gentlemen Prefer Blondes and Angela Carter's Nights at Me Circus to reveal the self-reflexive and ultimately subversive nature oft de-liberately constructed blonde spectacle.' In contrast, the main character in Dorothy Parker's then story "Big Blonde.. Hazel Motes. is not in control of her own narrative and thus her "performance" as a blonde has disastrous re-sultn a brief analysis of Parker's use of the blonde spectacle will provide a use-fid contrast to Loos's Lorelei Lee and Carter's main character, Sophie Fevvers. Loos and Carter draw our Mention to the image ofblonde beauty as a valuable
---
Buy "When Women Wrote Hollywood" Today!
†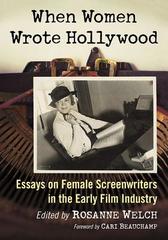 †
Paperback Edition | Kindle Edition | Google Play Edition
Help Support Local Bookstores — Buy at Bookshop.org
* A portion of each sale from Amazon.com directly supports our blogs
** Many of these books may be available from your local library. Check it out!
† Available from the LA Public Library