Months of research went into the creation of the essays in "When Women Wrote Hollywood." Here are some of the resources used to enlighten today's film lovers to the female pioneers who helped create it.
From The "When Women Wrote Hollywood Archives 33: "Elinor Glyn.", Denise Cummings , Women Film Pioneers Project. Columbia University
Perhaps most remembered in the United States for her best-selling 1907 novel of exotic sensuality Three Weeks and her brainchild "It," that enigmatic characteristic embodied in actress Clara Bow and dramatized in the silent motion picture It (1927), English-born journalist, novelist, screenwriter, and actress Elinor Glyn, born Elinor Sutherland, embarked on her American career in 1920 during her second visit to the United States. In October of 1907, at forty-two, Glyn, traveling as Elinor Glyn, the authoress of romantic fiction, boarded the Lusitania and set sail for New York on her first American tour in order to promote Three Weeks. According to her British biographer, Joan Hardwick, "the reception of Three Weeks in the States had renewed [Glyn's] confidence and she decided to try her hand at dramatizing it" (133). Before that version materialized, however, Glyn returned to England, but only after lengthening her stay with a journey by rail through the American West to California. Her 1907 tour of the United States and her introduction to American culture and way of life may very well have laid the fertile groundwork for her 1920 return and subsequent work as writer, director, producer, and actress in Hollywood.
---
Buy "When Women Wrote Hollywood" Today!
†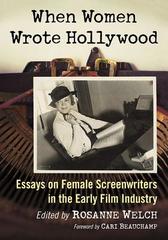 †
Paperback Edition | Kindle Edition | Google Play Edition
Help Support Local Bookstores — Buy at Bookshop.org
* A portion of each sale from Amazon.com directly supports our blogs
** Many of these books may be available from your local library. Check it out!
† Available from the LA Public Library