Highlighting the articles in the past editions of the Journal of Screenwriting, of which I am the Book Reviews Editor. Hopefully these abstracts will entice you to did a little deeper into the history and future of screenwriting. — Rosanne
---
From three acts to three screens: the significance of the role of writing in a new media film project by Jeremy Bubb
  
This article will discuss the writing and editing of a short film called Writ in Water, a project specifically designed for three-screen projection. I will explore the influences of the process of writing for multi-image drama by considering Lev Manovich's notion of narrative as database, Gene Youngblood's view of syncretism and synaesthetics and Robert McKee's approach to three-act structure in relation to story, inciting incident, character development and narrative timeline. I will also outline the influence of Aristotle on this new media drama triptych and, finally, discuss scriptwriting as a changing component in relation to digital technology. The continuing significance of the script as blueprint will be explored and how classic story structure and use of new technology work together to inform the final work. This article aims to reflect on the acts and the actions of narrative creation using the classic tropes of screenwriting and its influences, and also recognize the importance of process in contributing to new knowledge in the area of multi-image screen narrative. A full appreciation of an artwork includes an understanding of the extent to which it is a product and reflection of the technologies used in its making (Shaw and Weibel 2003: 198).
---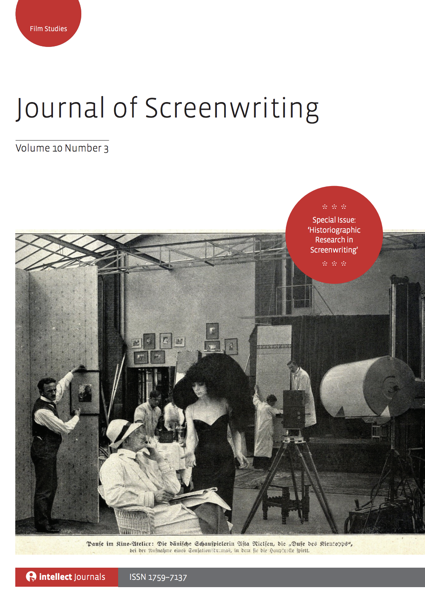 The Journal of Screenwriting is an international double-blind peer-reviewed journal that is published three times a year. The journal highlights current academic and professional thinking about the screenplay and intends to promote, stimulate and bring together current research and contemporary debates around the screenplay whilst encouraging groundbreaking research in an international arena. The journal is discursive, critical, rigorous and engages with issues in a dynamic and developing field, linking academic theory to screenwriting practice. 
Get your copy and subscription to the Journal of Screenwriting Today!
---
* A portion of each sale from Amazon.com directly supports our blogs
** Many of these books may be available from your local library. Check it out!