I'm proud to announce the next panel I'm moderating with the Writers Guild Foundation for our Stephens College MFA in TV and Screenwriting — Act Two: Transitioning to TV Writing from Other Careers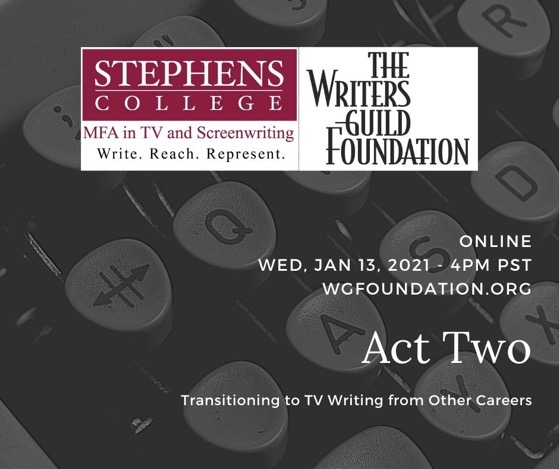 The WGF may have hit a pause on our live events, but thanks to technology, we're aiming to provide more access to advice and knowledge from film and TV writers while we're all social distancing. Over the last few months, we've been hosting free Zoom panels about craft and all things relevant to writers.
For this session, we team up with Stephens College MFA in TV and Screenwriting for a discussion on transitioning to TV writing from other careers. Learn how our panel of TV writers and producers made the jump to television, how their previous experiences inform their writing, and how that lens impacts their approach in the writers room.
Panelists:
Zoanne Clack, M.D., MPH – Executive Producer, Grey's Anatomy. Former career: Emergency room physician
Rashaan Dozier-Escalante – Staff Writer, SEAL Team. Former career: Senior Physical Security Analyst for federal agencies, U.S. Army Reserve veteran
Calaya Michelle Stallworth, Ph.D – Executive Story Editor, Fear of the Walking Dead. Former career: English professor at Spelman College, publishing
Moderated by Dr. Rosanne Welch, Director of Stephens College MFA in TV and Screenwriting.
Panel starts at 4:00pm Pacific time.
Space is limited so RSVP now. After signing up, you'll receive information on how to access the Zoom panel.
If you have any questions, please feel free to reach out to us at events@wgfoundation.org.
For anyone who was unable to RSVP for the panel, we will record and post it at a later date.