Highlighting the articles in the past editions of the Journal of Screenwriting, of which I am the Book Reviews Editor. Hopefully these abstracts will entice you to did a little deeper into the history and future of screenwriting. — Rosanne
---
Tracing the voice of the auteur: Persona and the Ingmar Bergman Archive by Anna Sofia Rossholm
This article discusses the Ingmar Bergman Archive, a donation by Bergman himself, mainly consisting of notebooks, manuscripts, production documents and letters, as well as the screenwriting process behind the film Persona (1966). The study approaches the digital manuscript archive as an interface that lends itself to an understanding of the artwork as continuous movement of transformation across media, an understanding that also links to aesthetical ideas on the relations between words and images expressed in Bergman's cinematographic work. The study opens with a discussion of these issues and continues with a reading of the self-reflexive film Persona in order to examine how the explicit reflections on the mediation are negotiated across notebook drafts and scripts. The different phases in the process of creation – from notes and drafts to script versions and film – reflect on the transitory nature of the text as well as drawing on the specificities of each form of expression.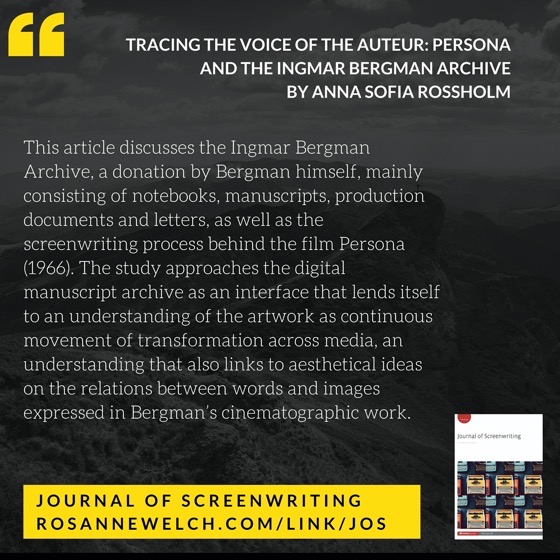 ---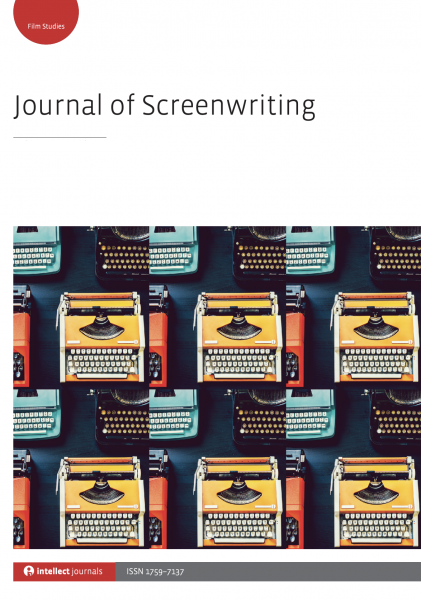 The Journal of Screenwriting is an international double-blind peer-reviewed journal that is published three times a year. The journal highlights current academic and professional thinking about the screenplay and intends to promote, stimulate and bring together current research and contemporary debates around the screenplay whilst encouraging groundbreaking research in an international arena. The journal is discursive, critical, rigorous and engages with issues in a dynamic and developing field, linking academic theory to screenwriting practice. 
Get your copy and subscription to the Journal of Screenwriting Today!
---
* A portion of each sale from Amazon.com directly supports our blogs
** Many of these books may be available from your local library. Check it out!