Highlighting the articles in the past editions of the Journal of Screenwriting, of which I am the Book Reviews Editor. Hopefully these abstracts will entice you to did a little deeper into the history and future of screenwriting. — Rosanne
---
Unknown spaces and uncertainty in film development by Margot Nash
This article examines a discovery-driven process to script development as opposed to a formula-driven one. It is an investigation into the uncertain nature of the creative process in general, and the all-pervasive quest for certainty in film development in particular. Development strategies that value a discovery-driven process are few and far between, as are strategies to explore the gaps, or elisions, within a screenplay where subtext thrives, yet these are transformative spaces that invite an active and creative response. In this article I engage in practice-based research as a writer/director and as a teacher, and investigate two particular areas of film development. The first is early-stage script development where ideas are still struggling to find form; the second is latter-stage script development where a screenplay is refined in order to create spaces where others might respond imaginatively. I advocate risk taking, and the use of unconventional models, in order to create new spaces for students to explore their creativity, and I examine the 'unknown' and the 'uncertain' as active spaces, both for a screenwriter developing new work and for those who engage creatively with a screenplay as it transforms into a film. I argue that gaps or spaces within a screenplay offer opportunities for directors, actors, key creative crew and eventually an audience to actively participate, and that a development process that values the unknown offers the screenwriter a gateway to adventure and innovation. Screenwriting textbooks rarely enter the unknown and uncertain spaces of creativity yet, as many artists (albeit working in less-expensive mediums) seem to know instinctively, it is within the interplay of the known and the unknown, of passion and reason, and of logic and intuition – that creativity lies.
---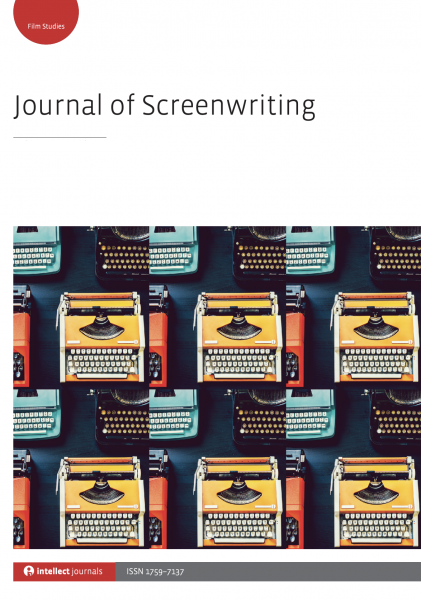 The Journal of Screenwriting is an international double-blind peer-reviewed journal that is published three times a year. The journal highlights current academic and professional thinking about the screenplay and intends to promote, stimulate and bring together current research and contemporary debates around the screenplay whilst encouraging groundbreaking research in an international arena. The journal is discursive, critical, rigorous and engages with issues in a dynamic and developing field, linking academic theory to screenwriting practice. 
Get your copy and subscription to the Journal of Screenwriting Today!
---
* A portion of each sale from Amazon.com directly supports our blogs
** Many of these books may be available from your local library. Check it out!