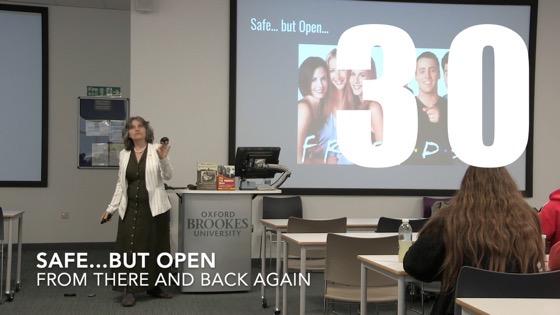 Thanks to the gracious invitation from my Screenwriting Research Network colleague Paolo Russo – and a grant he was able to procure (and in the before-Covid time) I was able to spend a week at Oxford Brookes University working with the screenwriting masters students in Paolo's course. At the culmination of the week, I gave this lecture on how writers rooms worked in the States.
Transcript:
Safe… but open. There was a huge lawsuit in the United States in Hollywood. The writer's assistant on Friends, which everyone knows because everyone's seen Friends a million times, she sued them for harassment because in her job of listening to them talk, of course, they talked a lot about their raw sexual experiences. That's kind of what Friends was about. Although you didn't really see that part of it right? You got the… it was more soft and she was embarrassed but she knew she was getting a job on a sitcom where that kind of thing was going to be discussed. So kind of a mess because that is the job but then you have to be gentle about how you're doing that and recognize who's in the room and think about how you honorably discuss these things. It wasn't really part of how people behaved a few years ago. So it's that's a that's a delicate balance that a writer-producer is trying to create in their room.
Watch this entire presentation
Subscribe to Rosanne's Channel and receive notice of each new video!
---
* A portion of each sale from Amazon.com directly supports our blogs
** Many of these books may be available from your local library. Check it out!
† Available from the LA Public Library
Podcast: Play in new window | Download
Subscribe: Google Podcasts | RSS