Highlighting the articles in the past editions of the Journal of Screenwriting, of which I am the Book Reviews Editor. Hopefully these abstracts will entice you to did a little deeper into the history and future of screenwriting. — Rosanne
---
Shaping the documentary subject: Writing and visualizing the documentary and media art script by Janet Merewether
This article seeks to examine the varied modes of writing employed by documentary filmmakers and media artists, who may, as an alternative to a conventional 'script', devise a framework of intent, or a 'working hypothesis' in order to constitute or determine the underlying structure of the temporal work. Fiction and non-fiction screenwriter/directors regularly focus on the subjects of human mortality, yet the process of shaping a script differs for the documentary author in that they may choose, or seek to, film the actual lives of trauma victims or terminally ill subjects. This article will examine how a documentary writer/director undertakes the relatively analytical processes of screenwriting and film structuring, whilst simultaneously experiencing a premonition of loss and uncertainty as to future events. Is it possible that filmmaking and autobiographical writing, as documentarian Ross McElwee (Time Indefinite, 1993) suggests, in their attempts to confront death directly, are 'just another denial of death-a way of distracting the filmmaker from dealing with death and then getting on with life'? Incorporating case studies of several of my own hybrid documentary films and digital artworks, I intend to examine some of the ethical, temporal, screenwriting and directorial issues that arise when selecting, filming and editing the lives of social actors or documentary participants. This article will discuss the key question: what can and do documentary and media art 'scripts' look like? How stylistically diverse can they be, in response to the director's framework of intent, or the idiosyncratic qualities of the participant selected?
---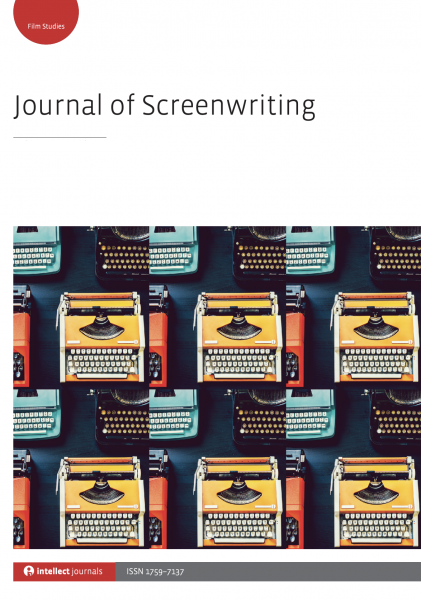 The Journal of Screenwriting is an international double-blind peer-reviewed journal that is published three times a year. The journal highlights current academic and professional thinking about the screenplay and intends to promote, stimulate and bring together current research and contemporary debates around the screenplay whilst encouraging groundbreaking research in an international arena. The journal is discursive, critical, rigorous and engages with issues in a dynamic and developing field, linking academic theory to screenwriting practice. 
Get your copy and subscription to the Journal of Screenwriting Today!
---
* A portion of each sale from Amazon.com directly supports our blogs
** Many of these books may be available from your local library. Check it out!