Dr. Rosanne Welch is interviewed by MUTV23, on "When Women Wrote Hollywood"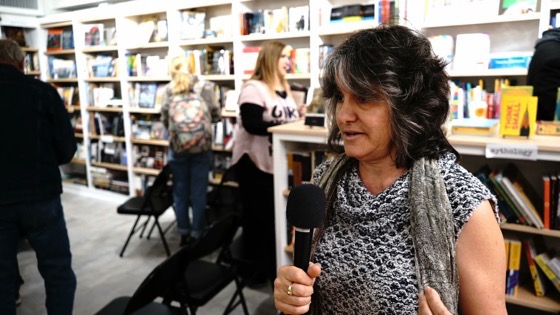 Transcript:
The goal of our program and the goal of the book in general is to remind people that there was a time in Hollywood when 50% of the writers and producers were women and that was in the silent and the early Hollywood era and then they were all sort of wiped away and what happened was now we think oh can women do that? women did it in droves just a hundred years ago .It was a lot of research for all the different contributors many of who came from Columbia Missouri and it was because a lot of these women don't have books written about them. They had to look through newspaper archives.They had to look through the Library of Congress. They — you know we could check the internet but the Internet's not your perfect source for anything. It took a lot of time about six months for everyone to get enough research to be able to write and then the book itself took two years to go through the editing production and then produced available today. I have been a fan of very famous women from the past and Anita Loos, Adela Rodgers St. John. I've read their books. I'd seen them on television when I was a child doing talk shows and I thought how fascinating their lives had been and yet I never saw them in the history books that I was given about Hollywood. They always talked about the men. They never talked about the women who done that work and I wanted to create a program and a course that would allow other women to learn how many women had come before them.
When Women Wrote Hollywood Book Reading and Signing, Skylark Bookshop, Columbia, Missouri
On Saturday, November 3rd, 2018 several of the contributors to When Women Wrote Hollywood gathered at the Skylark Bookshop in Columbia, Missouri for a signing and launch party that functioned like a mini-reunion of the Stephens College MFA in TV and Screenwriting Class of 2017.
Many thanks to all who came to hear them each speak with passion about the research subjects who became whole chapters in this book of essays on female screenwriters from the Silent Era into the 1940s.
Check it out the entire book reading!
---
Buy a signed copy of when Women Wrote Hollywood
Paperback Edition | Kindle Edition | Google Play Edition
* A portion of each sale from Amazon.com directly supports our blogs
** Many of these books may be available from your local library.
Check it out! † Available from the LA Public Library
Podcast: Play in new window | Download
Subscribe: Google Podcasts | RSS