A clip from my presentation at the 11th Annual Screenwriting Research Network conference. Held on the campus of the beautiful Università Cattolica del Sacro Cuore in Milan.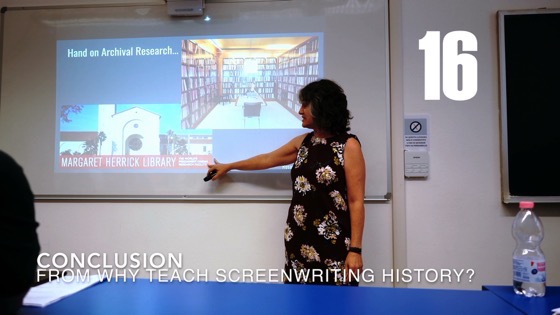 In the presentation, I covered the reasons writers have been marginalized – and the reasons they oughtn't to be so disrespected. Then I talked about how my course works, what books I assign, what guest speakers I invite, what research the students do – and ended on a high note by introducing 'When Women Wrote Hollywood' – the book of essays from our inaugural class which has now been published by McFarland.
Transcript:
Luckily we're in Los Angeles, so we do the research hands-on of the Margaret Herrick Library. These are in the database the screen archivist has created so that you can find the digital things for your own students and much is being scanned and put online for us these days. This is the Writers Guild of America. We have an archive as well of original scripts which is a great test to bring students to read. We don't have enough writers who give their stuff to the Guild. They give it to the Herrick because that's fancier and more cool. So we're trying to give their own personal correspondence to the Writers Guild. Anyway, All of this and my first couple of years led me to realize that when I had started having them do essays — research essays — 20-page research papers, they were all so good in the first year the students were so excited by what they were discovering that I wrote my publisher — emailed my publisher — and said I have twenty really good essays on early women's screenwriters in Hollywood from Dorothy Parker to Frances Hackett to Ruth Gordon and would you want to publish them? And they said "Yes" and so I was able to give my students their first publications through this course and one of them is here Jackie Perez has an essay in the book. She's come to the conference for the first time. So this was an amazing thing for me to be able to create through the use of these students. This is that first class who are all published in that book. Even though we're a women's college in higher learning you have to accept men so there three men in that class also represented in the book. Men have become interested in our mission which is to provide more female-focused stories and more female writers into the business so it was a really good class. We love them all and that's what I have to say.
Watch the entire presentation
Subscribe to Rosanne Welch, Ph.D on YouTube
---
Buy a signed copy of when Women Wrote Hollywood
Paperback Edition | Kindle Edition | Google Play Edition
* A portion of each sale from Amazon.com directly supports our blogs
** Many of these books may be available from your local library. Check it out!
† Available from the LA Public Library
Podcast: Play in new window | Download
Subscribe: Google Podcasts | RSS