Watch this entire presentation
The Sisterhood of Science Fiction: A Walk Through Some Writers and Characters You (Should) Know And Love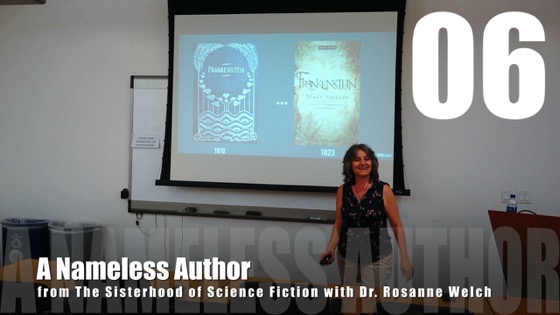 This one allowed me to riff on some of my favorite female science fiction writers across time, whether they be novelists or television writers. It also opened up a good conversation on what art we support and include in our lives – and what that art says to us and about us. — Rosanne
Transcript:
(Audience Question) I'm really curious of how she felt then if she had a miscarriage at the time and she read books. Welch: That's a fascinating point of view. Sadly or not sadly– interestingly — rich women did engage in the art of reading. So it's interesting how we like to tell poor women how to behave. Rich women can do whatever they please right? So he's acceptable in her world because you were supposed to read things and be a good reader so you could teach your children — your sons — to be good leaders in the world. So it was acceptable — that's an excellent question though that's like whoa. That's a critical thinking kind of question going on right there because you're right and but they felt that it was not proper to put out the novel with her name on it. So they didn't right? In 1818, it doesn't say Mary Shelley's just here's a book. Read it if you want to. Whatever. You can't even tell from the cover — you're right — what it's about right?
---
* A portion of each sale from Amazon.com directly supports our blogs
** Many of these books may be available from your local library. Check it out! 
Podcast: Play in new window | Download
Subscribe: Google Podcasts | RSS