Watch this entire presentation
The Sisterhood of Science Fiction: A Walk Through Some Writers and Characters You (Should) Know And Love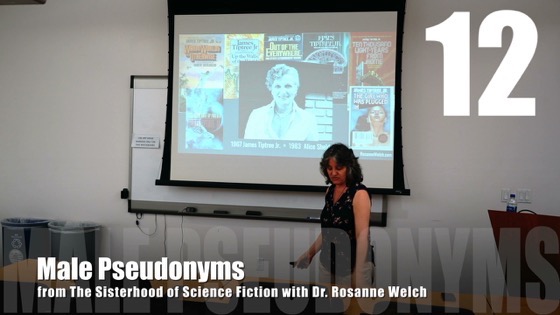 This one allowed me to riff on some of my favorite female science fiction writers across time, whether they be novelists or television writers. It also opened up a good conversation on what art we support and include in our lives – and what that art says to us and about us. — Rosanne
Transcript:
Now most of you I imagine in your in your younger years read Harry Potter which is written by JK Rowling because the publishers didn't want or didn't assume that boys would read a book written by Joanna. We're not gonna read books written by women. My favorite book as a kid, which is still quite popular, The Outsiders is written by SE Hinton. Susan Elizabeth Hinton and nobody believed that boys would read a book about gangs written by a girl. Even though she lived with those kids and that was her childhood. She understood those kids obviously so well but yeah so we still do that to women, right? The best-selling book really of the last generation had to be written by someone with initials.
---
* A portion of each sale from Amazon.com directly supports our blogs
** Many of these books may be available from your local library. Check it out! 
Podcast: Play in new window | Download
Subscribe: Google Podcasts | RSS