Watch this entire presentation
The Sisterhood of Science Fiction: A Walk Through Some Writers and Characters You (Should) Know And Love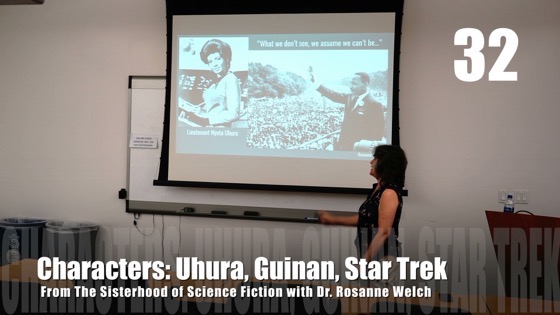 Subscribe to Rosanne's Channel and receive notice of each new video!
This one allowed me to riff on some of my favorite female science fiction writers across time, whether they be novelists or television writers. It also opened up a good conversation on what art we support and include in our lives – and what that art says to us and about us. — Rosanne
Transcript:
Because of him talking to her at that event, she stayed on the show and as we know, she went through the movies– as an older woman, which is also a big deal an — older woman doing empowering things very cool. She influenced Whoopi Goldberg who at that point was an Academy award-winning actress. She did the TV show, The Next Generation, for the very same reason. She said I grew up watching Nichelle Nichols. I want to give that same message to children in the next generation. So she would guest frequently on Next Generation and while we're busy thinking about people who got very very influenced, you may not know this lady? Anybody? She's the first African American female astronaut. Her name is Mae Jemison, all right, so she's an American woman who saw Star Trek as a kid and said I'm gonna get that job and she did which is pretty amazing. So much so that she guest-starred on the show to say thanks for what influence you gave me in my childhood and I want other young girls to see me in the future. That's an amazing piece of powerful message coming from one character, right, one character being invented in a show. So it's fascinating to me what we can learn from that.
---
* A portion of each sale from Amazon.com directly supports our blogs
** Many of these books may be available from your local library. Check it out! 
Podcast: Play in new window | Download
Subscribe: Google Podcasts | RSS