Watch this entire presentation
The Sisterhood of Science Fiction: A Walk Through Some Writers and Characters You (Should) Know And Love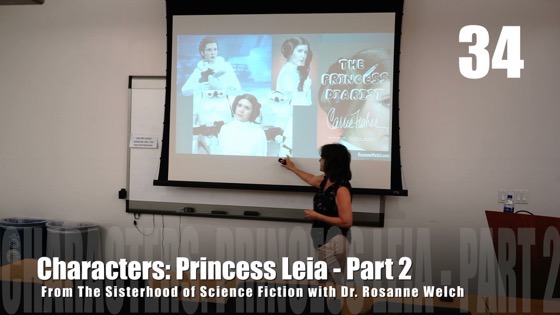 Subscribe to Rosanne's Channel and receive notice of each new video!
This one allowed me to riff on some of my favorite female science fiction writers across time, whether they be novelists or television writers. It also opened up a good conversation on what art we support and include in our lives – and what that art says to us and about us. — Rosanne
Transcript:
My favorite picture of her is always this moment, where she breaks him down with no weapon just her mind and her courage. She's like screw you dude. I could smell you when I walked in the room. Too bad right? That diplomat. That person who could do it with their voice and their inner strength. That's the character that I like to remember better but you're mostly gonna see these pictures and you know I didn't put up the picture of her in the bikini and Jabba the Hutt because that's just overdone — overdone and sad to say — much as I like George Lucas — pretty cool in many things he's done, she does throw out reference in the book when she showed up as a 19-year-old all alone in England to film this movie with a bunch of dudes who are older than her. She's not wearing a bra under that thing and when she asked George Lucas why he said there are no bras in the 25th century and it wasn't till later in life she was like these guys just wanted to see me bouncing around without a bra. All the men on the crew just wanted to watch me without a bra. What do you mean there are no bras in the 25th century?! Who are you? You're not the guy who invented that! So you know that's kind of sad and kind of bums me out, but this is the Princess Leia that I like to remember. I think she's powerful.
---
* A portion of each sale from Amazon.com directly supports our blogs
** Many of these books may be available from your local library. Check it out! 
Podcast: Play in new window | Download
Subscribe: Google Podcasts | RSS