Watch this entire presentation
The Sisterhood of Science Fiction: A Walk Through Some Writers and Characters You (Should) Know And Love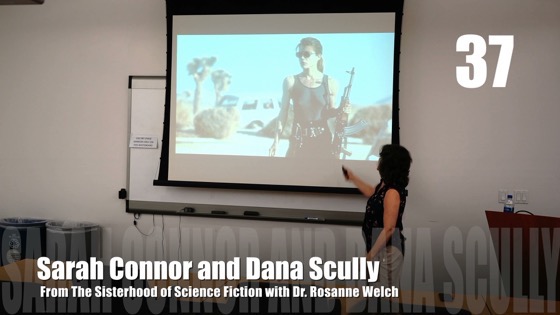 Subscribe to Rosanne's Channel and receive notice of each new video!
This one allowed me to riff on some of my favorite female science fiction writers across time, whether they be novelists or television writers. It also opened up a good conversation on what art we support and include in our lives – and what that art says to us and about us. — Rosanne
Transcript:
Of course, then we move over to Sarah Connor and the Terminator. Again. it's this thing that gives everybody power. Not what I'm providing inside and Sarah Connor is pretty boss and pretty tough but it's that gun we always go back to. So I don't think about it's– (Audience) I always remember her and even when I'm exercising when she's doing the pull-ups. (Rosanne) Yes. (Audience) I — when I exercise, I think about her. (Rosanne) See that's good. That's– that's the inner strength. That's very cool yeah. That is the cool bit of it. Yeah. So we're getting around to it. Of course through those movies we then come up with the X-Files and now we have Dana Scully who is all-powerful because it's her brain. Not big on using the gun, right, that's his job. She's using her brain and she's the more intellectual — the stronger one — in many ways. He's the one running by his heart and his emotions and she's the one running through her mind. So we're switching the male and female sort of identifiers in this piece, which is pretty strong.
---
* A portion of each sale from Amazon.com directly supports our blogs
** Many of these books may be available from your local library. Check it out! 
Podcast: Play in new window | Download
Subscribe: Google Podcasts | RSS