An on-going series highlighting the women screenwriters of early Hollywood.
When I was first asked to create a history course for a new MFA focused on the mission of bringing more female voices and female-centric stories to Hollywood, I knew we had to start at the very beginning, when women ran Hollywood. No other course I had ever taken or been asked to teach focused on these women, some of whom I had been reading about since the summers of my childhood in Cleveland, Ohio. Back then, I went to the library once a week to collect a stack of memoirs by women I had seen interviewed on The Merv Griffin Show, women like Anita Loos and Adela Rogers St. Johns. Their stories introduced me to moguls like Louis B. Mayer or Jack Warner, who make up most of the history courses I later found in academia. Knowing better, I found most of those courses, and their accompanying textbooks, glossed over these women with a paragraph if they mentioned them at all. I conceived a course that would begin with these women who began Hollywood and culminate in research by each graduate student into the life and career of one particular early female screenwriter. That is what you find here. A collection of herstories about how these women lived, loved and created the stories that gave their audiences reasons to live and love in their own lives. — Dr. Rosanne Welch, Editor. When Women Wrote Hollywood
---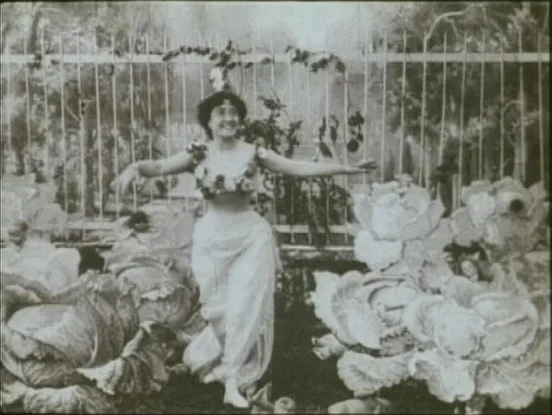 The 1896 version of La Fée aux Choux (The Fairy of the Cabbages) is a lost film that featured a honeymoon couple, a farmer, pictures of babies glued to cardboard, and one live baby. This is arguably the world's first narrative film, and the first film directed by a woman.

Alice Guy-Blaché reported that she had to remake the film at least twice and this accounts for the two films dated 1900 and 1902 that are available to view online. Alice's 1900 version employed one actress (the fairy), two live babies, and a number of dolls. Her 1902 version, later retitled Sage-femme de première classe, employed a honeymoon couple and a female baby merchant along with numerous babies and dolls. In a still photograph from the 1902 version called Sage-femme de première classe (Midwife First Class) Alice appears, dressed as a man. She does not play the husband in the film, but said that she "for fun pulled on the peasant clothes" for the photograph.

Alice's 1896 film was the first to bring a story to an audience and the first to have a written scenario which Alice wrote.[1] The 1896 version was filmed on 60-millimeter film and was about 30 meters (about 90 feet) long. The 1900 version of La Fée aux Choux is on 35-millimeter film and is about sixty seconds long. The 1902 version is on 35-millimeter film and is about four minutes long.

All three versions refer to an old and popular French (and actually, European) fairy tale in which baby boys are born in cabbages, and baby girls are born in roses.

Alice Guy-Blaché, the director of La Fée aux Choux, is one of the early cinema's most important figures, and had a long career as a director, producer and studio owner, working in both France and the United States. — Wikipedia

Alice Guy-Blaché (July 1, 1873 – March 24, 1968) was a pioneer filmmaker, active from the late 19th century, and one of the first to make a narrative fiction film.[2] From 1896 to 1906 she was probably the only female filmmaker in the world. [3] She experimented with Gaumont's Chronophone sound syncing system, color tinting, interracial casting, and special effects. She was a founder and artistic director of the Solax Studios in Flushing, New York, in 1908. In 1912 Solax invested $100,000 for a new studio in Fort Lee, New Jersey, the center of American filmmaking prior to the establishment of Hollywood. That same year she made the film A Fool and his Money, with a cast comprised only African-American actors. The film is now at the National Center for Film and Video Preservation at the American Film Institute.[4] — Wikipedia
More about Alice Guy Blaché
†
* A portion of each sale from Amazon.com directly supports our blogs
** Many of these books may be available from your local library. Check it out!
† Available from the LA Public Library
---
Buy "When Women Wrote Hollywood" Today!
†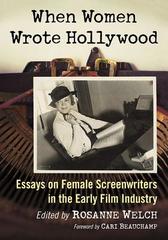 †
Paperback Edition | Kindle Edition | Google Play Edition
Help Support Local Bookstores — Buy at Bookshop.org
* A portion of each sale from Amazon.com directly supports our blogs
** Many of these books may be available from your local library. Check it out!
† Available from the LA Public Library