Months of research went into the creation of the essays in "When Women Wrote Hollywood." Here are some of the resources used to enlighten today's film lovers to the female pioneers who helped create it.
The advent of color, big musicals, the studio system, and the beginning of institutionalized censorship made the thirties the defining decade for Hollywood. The year 1939, celebrated as "Hollywood's greatest year," saw the release of such memorable films as Gone with the Wind, The Wizard of Oz, and Stagecoach. It was a time when the studios exercised nearly absolute control over their product as well as over such stars as Bette Davis, Clark Gable, and Humphrey Bogart. In this fifth volume of the award-winning series History of the American Cinema, Tino Balio examines every aspect of the filmmaking and film exhibition system as it matured during the Depression era.
---
Buy "When Women Wrote Hollywood" Today!
†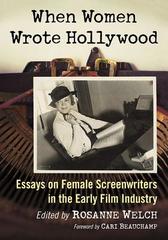 †
Paperback Edition | Kindle Edition | Google Play Edition
Help Support Local Bookstores — Buy at Bookshop.org
* A portion of each sale from Amazon.com directly supports our blogs
** Many of these books may be available from your local library. Check it out!
† Available from the LA Public Library