Months of research went into the creation of the essays in "When Women Wrote Hollywood." Here are some of the resources used to enlighten today's film lovers to the female pioneers who helped create it.
COMEDY OUTLOOK SADDENS SPEWACK; Calls Times 'Unfortunate' for the Writer of Humor — Cites 'Method' School as 'Grim'
By Louis Calta
Available in facsimile version on the NY Times web site.
---
Buy "When Women Wrote Hollywood" Today!
†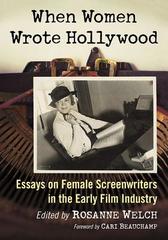 †
Paperback Edition | Kindle Edition | Google Play Edition
Help Support Local Bookstores — Buy at Bookshop.org
* A portion of each sale from Amazon.com directly supports our blogs
** Many of these books may be available from your local library. Check it out!
† Available from the LA Public Library