Months of research went into the creation of the essays in "When Women Wrote Hollywood." Here are some of the resources used to enlighten today's film lovers to the female pioneers who helped create it.
As a woman who wrote or cowrote over sixty produced films, a producer who championed strong female roles, and a Hollywood insider with a career spanning over three decades, Jane Murfin may be one of the most prolific but least known writers of the 1920s and '30s.

Jane Murfin was born Jane Macklem in Quincy, Michigan. Her first marriage, in 1907, to lawyer James Murfin, lasted less than five years, but Jane adopted his surname and would use it—excluding the brief period in the late 1910s when she and Jane Cowl used the pseudonym Allan Langdon Martin—throughout her life. Although the 1910 US Census records list her as living as a housewife in Michigan with her lawyer-husband James, according to Murfin family correspondence from 1967, Jane moved shortly after to New York City while her husband remained in Michigan. According to the University of Michigan in Ann Arbor, James eventually became a school regent, after a long career teaching law, and even has a gate on the grounds named after him.
---
Buy "When Women Wrote Hollywood" Today!
†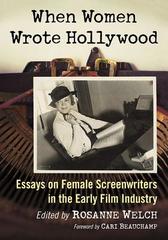 †
Paperback Edition | Kindle Edition | Google Play Edition
Help Support Local Bookstores — Buy at Bookshop.org
* A portion of each sale from Amazon.com directly supports our blogs
** Many of these books may be available from your local library. Check it out!
† Available from the LA Public Library