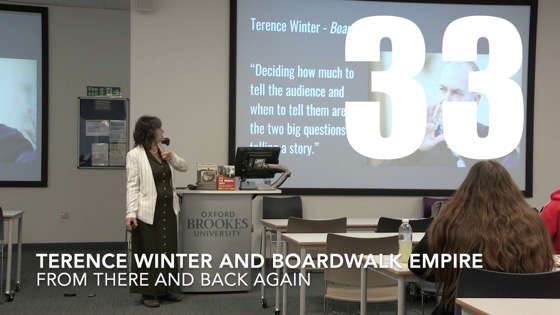 Thanks to the gracious invitation from my Screenwriting Research Network colleague Paolo Russo – and a grant he was able to procure (and in the before-Covid time) I was able to spend a week at Oxford Brookes University working with the screenwriting masters students in Paolo's course. At the culmination of the week, I gave this lecture on how writers rooms worked in the States.
Transcript:
Terence Winter on Boardwalk Empire. He came off of The Sopranos so he had a very good pedigree and then he moved into Boardwalk Empire and the idea of how you parse out the story and this comes from structure. At what point to do give out what information. How do you string the audience along. I think that's really interesting. That's a whole other conversation.
Watch this entire presentation
Subscribe to Rosanne's Channel and receive notice of each new video!
---
* A portion of each sale from Amazon.com directly supports our blogs
** Many of these books may be available from your local library. Check it out!
† Available from the LA Public Library
Podcast: Play in new window | Download
Subscribe: Google Podcasts | RSS