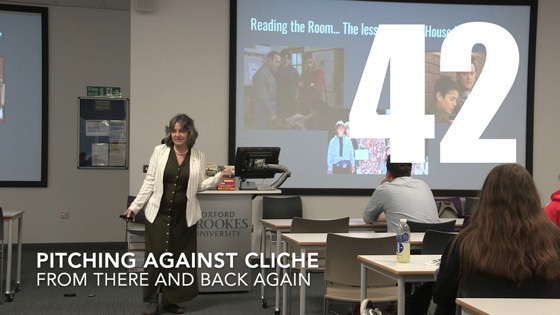 Thanks to the gracious invitation from my Screenwriting Research Network colleague Paolo Russo – and a grant he was able to procure (and in the before-Covid time) I was able to spend a week at Oxford Brookes University working with the screenwriting masters students in Paolo's course. At the culmination of the week, I gave this lecture on how writers rooms worked in the States.
Transcript:
This particular episode was called "A House Divided." It didn't have Robin Williams in it. That's from which movie? Mrs. Doubtfire, right, because I read an article about Mrs. Doubtfire. I wanted to do an episode about teaching parents not to teach their — make their child a weapon in their divorce right and because that's the story of divorce. It's like you love me more than you love him. My problem was i knew that my boss's answer would be the parents — like The Parent Trap — should get married again at the end. That's the answer that our show should give but i had read an interview with Robin Williams that had taken place several years earlier. When he agreed to do Mrs. Doubtfire, he put in his contract that the film could not end with he and Sally Field getting married again because he would not lie to his own children because he was divorced twice by then and he knew he was never getting back together with his first wife. So he would not do a movie that lied to his own children and that really struck me. So the way they fixed it was they made Sally Field already connected to Pierce Brosnan right?
Watch this entire presentation
Subscribe to Rosanne's Channel and receive notice of each new video!
---
* A portion of each sale from Amazon.com directly supports our blogs
** Many of these books may be available from your local library. Check it out!
† Available from the LA Public Library
Podcast: Play in new window | Download
Subscribe: Google Podcasts | RSS