Highlighting the articles in the past editions of the Journal of Screenwriting, of which I am the Book Reviews Editor. Hopefully these abstracts will entice you to did a little deeper into the history and future of screenwriting. — Rosanne
---
Guest and returning writers in American television drama series: The two Davids by Tom Steward
  
The article uses two distinct historical case studies to argue in favour of the agency of guest writers and returning episode writers of American television drama series in terms of their ability to create thematically and stylistically distinctive episodes with an individual voice. In the first, I look at writer-director David Mamet's episode of Hill Street Blues (NBC, 1980–1987) entitled 'A Wasted Weekend' and in the second I discuss several episodes written by writer-director-producer David Chase for The Rockford Files (NBC, 1974–1980). I explore the case studies in relation to existing critical literature on American television drama authorship and comparison to more recent examples of guest and returning episode writers. Using in-depth textual, script and production analysis, I argue that the tone, content and style of certain episodes of American television drama series are unique to the individual writer. I contend that the production roles of guest writer and returning episode writer, while different at different times, offer scope for writers to distinguish their work in American television. In addressing these particular screenwriting roles, I challenge the overemphasis on the production hierarchy in terms of critical accounts of creativity within American television drama and probe the exploitation of writers in cultural validations of television.
---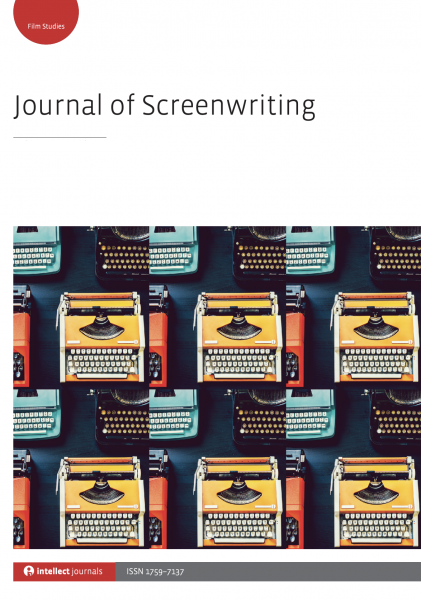 The Journal of Screenwriting is an international double-blind peer-reviewed journal that is published three times a year. The journal highlights current academic and professional thinking about the screenplay and intends to promote, stimulate and bring together current research and contemporary debates around the screenplay whilst encouraging groundbreaking research in an international arena. The journal is discursive, critical, rigorous and engages with issues in a dynamic and developing field, linking academic theory to screenwriting practice. 
Get your copy and subscription to the Journal of Screenwriting Today!
---
* A portion of each sale from Amazon.com directly supports our blogs
** Many of these books may be available from your local library. Check it out!