It was great to be able to attend this year's SD WhoCon in San Diego and present this lecture on "The Difficulties and Delicacies of Writing the First Female Doctor in 50+ years" in which I discuss how successful I think showrunner Christopher Chibnall was in making that transition.
It gave me a chance to talk about the creative work of a showrunner/screenwriter while also reconnecting to some friends we had met at this same convention some 3 years ago – and to talk about one of my favorite subjects – Doctor Who!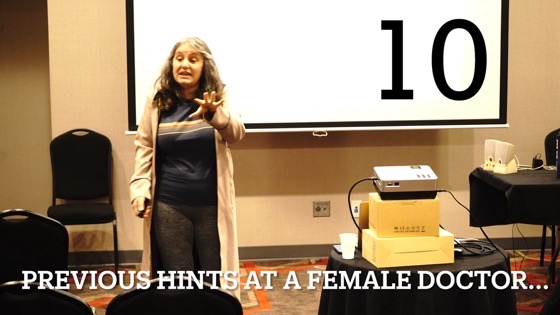 Transcript:
Even Steven toyed with it between Matt and Peter, And I love Peter Capaldi. He's an excellent actor, but there was a moment there and he just kind of went no…not yet, right? So I think that Chris had the guts so we have to give him credit for that. And it's important that Jody recognized it was going to be a little shocking to people and, again, love Peter but Peter was like well, I think boys are losing a role model and then somebody said, Dude, women can be role models to men. It's ok. Right? And boys can see strong women in the world. That's actually going to be good for them later in life. So, it was a little delicate and he took the shot.
Watch this entire presentation
Podcast: Play in new window | Download
Subscribe: Google Podcasts | RSS