I'm pleased to have been invited to give the introductory remarks before a showing of the 1959 Gidget film at the Autry Museum of the American West (in Griffith Park).

Join us on Saturday, August 6, 2022, at 1:30 PM. I'll be giving a shortened version of the presentation I made when we attended the Screenwriting Research Network conference held in New Zealand a few years ago.
In a nutshell, I trace Gidget, the Little Girl with Big Ideas from its origins as a novel, its transformation into a film franchise, and then into a TV series. Along the way, we'll discover how this one story created a new myth about how teenagers reinvented the West. — Rosanne

What Is a Western? Gidget (1959) – Part Of The Series What Is A Western? Film Series – Autry Museum of the American West
Saturday, August 6, 2022, 1:30 p.m.
The Autry: Wells Fargo Theater
Appropriate For: Families
Admission: Free for Autry Members | Museum Admission Included With Ticket
RSVP/Reservations:  Reservations Recommended | Space Is Limited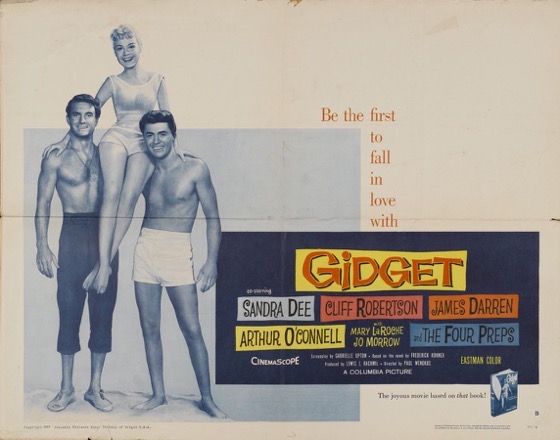 Considered to be the first of the "beach party" movies, this coming-of-age tale is based on the true story of Kathy Kohner and her experiences as a young woman in the then-niche and masculine sport of surfing. Widely credited with the mainstreaming of surfing culture in the United States, it also inspired many films and television series featuring the character of Gidget.
Introduced by Rosanne Welch, executive director, Stephens College MFA in TV and Screenwriting
Directed by Paul Wendkos | Starring Sandra Dee, James Darren, and Cliff Robertson
Screenplay by Gabrielle Upton | Based on a novel by Frederick Kohner
The What is a Western? Film Series explores the wide range of movies that can be considered Westerns, and the ways in which they shape our understanding of the American West. Each screening includes a guest lecturer who will introduce the film and explain its significance in the genre.