Watch this entire presentation
The Sisterhood of Science Fiction: A Walk Through Some Writers and Characters You (Should) Know And Love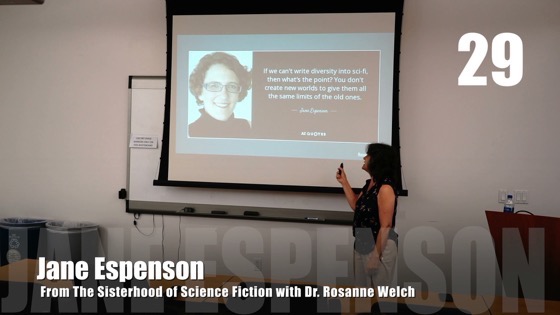 Subscribe to Rosanne's Channel and receive notice of each new video!
This one allowed me to riff on some of my favorite female science fiction writers across time, whether they be novelists or television writers. It also opened up a good conversation on what art we support and include in our lives – and what that art says to us and about us. — Rosanne
Transcript:
This lady I love. Jane Espenson. She got her start in Star Trek. Many women writers in television were first given a script on some version of Star Trek whether it was Deep Space 9 or The Next Generation. She's been around a long time. She also worked on Buffy which is one of my favorite shows which is really particularly well-written. She created Warehouse 13 which I thought was an adorable show and a great interesting premise about all the objects in the world that were alien objects and when they passed through history they were hidden in a big warehouse. If they got stolen, people could take the powers of early people because they were inside the object. So, you know, Marilyn Monroe's hairbrush made you sexy because it turned you into a platinum blonde and we couldn't put that out in the world because there'd be way too much of that going on. Really cute interesting stuff. Of course, she also wrote the Battlestar Galactica. She wrote one of the best episodes of Once Upon A Time. It was called Red-Handed and it has to do with the real story of Red Riding Hood and werewolves and how those two stories converge and it's just so brilliantly and it uses our biases about gender and power against us to not predict where it's going. So it's a really lovely interesting piece of writing. I think is in the third season.
---
* A portion of each sale from Amazon.com directly supports our blogs
** Many of these books may be available from your local library. Check it out! 
Podcast: Play in new window | Download
Subscribe: Google Podcasts | RSS