Months of research went into the creation of the essays in "When Women Wrote Hollywood." Here are some of the resources used to enlighten today's film lovers to the female pioneers who helped create it.
 

For the first time, The Collected Lorna Moon brings together her much acclaimed novel Dark Star, collected short stories Doorways in Drumorty, and a selection of her previously unpublished letters and poetry to offer a fresh perspective on this unusual woman: a woman who travelled a long distance from Scotland and yet, imaginatively, took Scotland with her and re-fashioned the experiences of her early years. The life story of Lorna Moon from her escape from Scotland, a series of romantic adventures, to a career as a script writer in the early days of Hollywood, presents the wildest challenge to our expectations for a woman in rural Scotland in the early twentieth century. Her writing, in equally dramatic fashion, takes the conventional subject of Scottish small-town life, and reshapes it through a combination of satirical analysis and melodramatic romance that no other writer from the north-east has achieved. The Collected Lorna Moon is an enchanting collection, edited and introduced by Glenda Norquay, scholar of Scottish fiction and featuring a foreword by Richard de Mille, the illegitimate son of Lorna Moon and Hollywood director Cecil B. de Mille's son William, in order to provide insight into the life of an extraordinary woman.  — Amazon
---
Buy "When Women Wrote Hollywood" Today!
†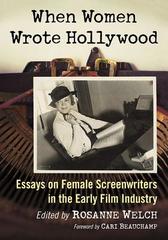 †
Paperback Edition | Kindle Edition | Google Play Edition
Help Support Local Bookstores — Buy at Bookshop.org
* A portion of each sale from Amazon.com directly supports our blogs
** Many of these books may be available from your local library. Check it out!
† Available from the LA Public Library