Watch this entire presentation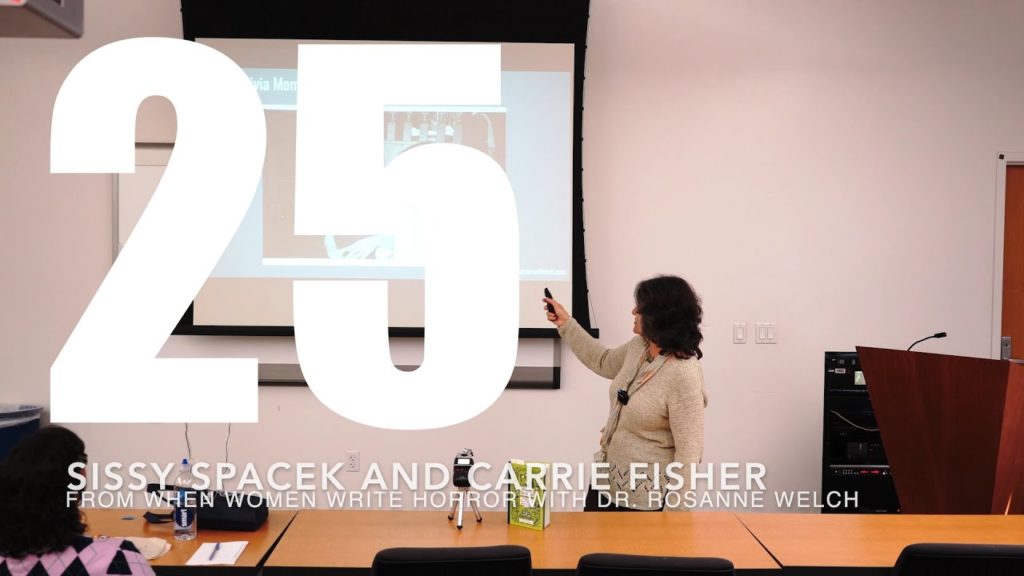 Subscribe to Rosanne's Channel and receive notice of each new video!
In honor of Halloween – and in service to my teaching philosophy —
"Words Matter. Writers Matter. Women Writers Matter."
I presented this holiday lecture "When Women Write Horror" on Tuesday, October 29th, 2019. Researching the many, many women who have written horror stories – in novels, films and television – brought new names to my attention who I am excited to start reading. I hope you will be, too!
Transcript:
Sissy Spacek was quite wonderful. Do a little pop culture moment here. That's Sissy Spacek and she's with Carrie Fisher. Why would i put those two together in a picture? I's because long ago and far away onthe day that they each auditioned for their separate movie, the two directors swapped the women. So Sissy Spacek could have been Princess Leia and Carrie Fisher could have been Carrie. Think about how different both of their careers would have gone had that happened and how much that each of them affect the further work they did. Carrie Fisher would always argue and I believe with her Princess Leia was powerful. She wasn't as powerful as she could be but she was a character that took a weapon and helped with saving herself right? So each of them affected the work they did in the future.
Podcast: Play in new window | Download
Subscribe: Google Podcasts | RSS