Months of research went into the creation of the essays in "When Women Wrote Hollywood." Here are some of the resources used to enlighten today's film lovers to the female pioneers who helped create it.
Lillian Hellman has been a literary institution for nearly 50 years–long enough, as she put it, to undergo a revival within her own lifetime. She was 27 when her play The Children's Hour was proclaimed a smash success in 1934, and she almost immediately acquired the label "America's foremost woman playwright." (Her reaction to that honor was typical: she was quick to point out the discrimination of the phrase.)

She survived the failure of her second play, Days to Come, and went on to write such major dramas as The Little Foxes, Another Part of the Forest, Watch on the Rhine, Toys in the Attic and The Autumn Garden.

Read A Conversation With Lillian Hellman: A still unfinished woman via Rolling Stone
---
Buy "When Women Wrote Hollywood" Today!
†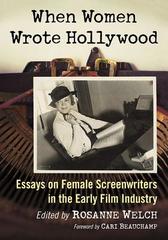 †
Paperback Edition | Kindle Edition | Google Play Edition
Help Support Local Bookstores — Buy at Bookshop.org
* A portion of each sale from Amazon.com directly supports our blogs
** Many of these books may be available from your local library. Check it out!
† Available from the LA Public Library