Months of research went into the creation of the essays in "When Women Wrote Hollywood." Here are some of the resources used to enlighten today's film lovers to the female pioneers who helped create it.
†
* A portion of each sale from Amazon.com directly supports our blogs
** Many of these books may be available from your local library. Check it out!
† Available from the LA Public Library
During the '30s and '40s, Hollywood produced a genre of madcap comedies that emphasized reuniting the central couple after divorce or separation. Their female protagonists were strong, independent, and sophisticated. Here, Stanley Cavell names this new genre of American film―"the comedy of remarriage"―and examines seven classic movies for their cinematic techniques and for such varied themes as feminism, liberty, and interdependence.

Included are Adam's Rib, The Awful Truth, Bringing Up Baby, His Girl Friday, It Happened One Night, The Lady Eve, and The Philadelphia Story. – Amazon
---
Buy "When Women Wrote Hollywood" Today!
†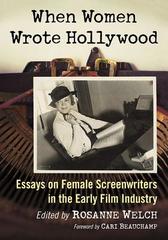 †
Paperback Edition | Kindle Edition | Google Play Edition
Help Support Local Bookstores — Buy at Bookshop.org
* A portion of each sale from Amazon.com directly supports our blogs
** Many of these books may be available from your local library. Check it out!
† Available from the LA Public Library