In researching and writing my book on Giuseppe and Anita Garibaldi and the unification of Italy (A Man Of Action Saving Liberty: A Novel Based On The Life Of Giuseppe Garibaldi)  I re-discovered the first American female war correspondent – Margaret Fuller — who I had first met in a college course on the Transcendentalists. I was once again fascinated by a life lived purposefully.
Then I found Tammy Rose's podcast on the Transcendentalists – Concord Days – and was delighted when she asked me to guest for a discussion of Fuller's work in Italy as both a journalist – and a nurse. — Rosanne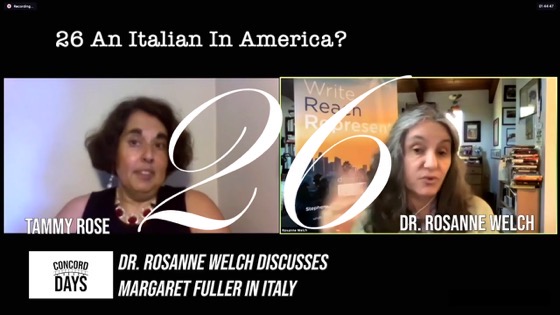 Watch this entire presentation
Concord Days sends love to Margaret Fuller on the anniversary of her death in 1850.
The conversation focuses on Margaret's exciting days in ITALY!
Dr. Rosanne Welch takes us through her adventures and enthusiastically reminds us what she was like when she was living her best life!
Transcript:
It makes perfect sense that she would have been testing the waters for all of it because she's also married to a foreigner, right, and a Catholic and Catholics were not accepted in the country at that time either because of you know loving the Pope and all that stuff. So she probably was. I would say it's probably that her son probably wasn't necessarily — didn't necessarily have darker skin because Giovanni comes from one more northern part of the country and we probably at that time we weren't as discriminatory because Italy was kind of part of Europe and France and then you know Lafayette was a good guy and we're sort of immigrants. Yeah. I don't think it's — it happens in the early 1900s because that's when the great mass of unwashed poor folks show up and we want to put them to work in our crummy jobs and our seamstress factories and things like that and the guys are working on the railroad but yeah…
All the immigrants. And you know and the problem is or the luck the privilege is we assimilate so that we look white which of course is bullshit. There's no such thing as white. It makes me crazy. Caucasian you know. I always tell students caucasian is the dumbest word in the world because there's no land of "cauc." It's literally the dude right the dude who studied all the skulls to do the hierarchy of all the different ethnicities. He thought the prettiest skulls came from the people who lived in the Caucus mountains of Russia and so he qualified them as Caucasian but that's not a thing, right?
Podcast: Play in new window | Download
Subscribe: Google Podcasts | RSS