In researching and writing my book on Giuseppe and Anita Garibaldi and the unification of Italy (A Man Of Action Saving Liberty: A Novel Based On The Life Of Giuseppe Garibaldi)  I re-discovered the first American female war correspondent – Margaret Fuller — who I had first met in a college course on the Transcendentalists. I was once again fascinated by a life lived purposefully.
Then I found Tammy Rose's podcast on the Transcendentalists – Concord Days – and was delighted when she asked me to guest for a discussion of Fuller's work in Italy as both a journalist – and a nurse. — Rosanne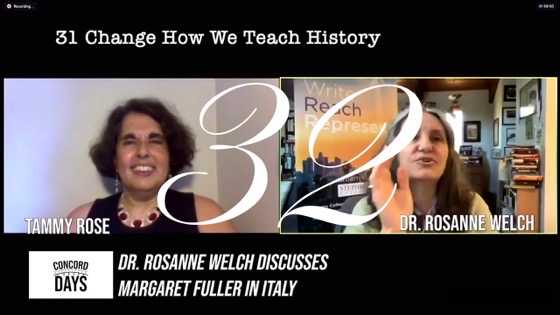 Watch this entire presentation
Concord Days sends love to Margaret Fuller on the anniversary of her death in 1850.
The conversation focuses on Margaret's exciting days in ITALY!
Dr. Rosanne Welch takes us through her adventures and enthusiastically reminds us what she was like when she was living her best life!
Transcript:
I've often said our mistake — and other people are talking about this too — I don't think we should wait until later to teach you history and I don't think we should keep doing the whole story in every year that you do it — like eighth grade and 10th grade or whatever. I think we should start in second grade at the beginning of the story and you don't get to the end of it so you're in 12th grade and then you don't have to have women's history and African American history and Asian American history and in in the east coast I've seen Italian American history which we don't have in California which I wish — put them all in one story. Like all of them in the same and it just takes that much longer to tell it but we have 12 years. They're in school for 12 years.
Podcast: Play in new window | Download
Subscribe: Google Podcasts | RSS