Watch the entire presentation – Worry and Wonder | The Courier Thirteen Podcast | Episode # 29 here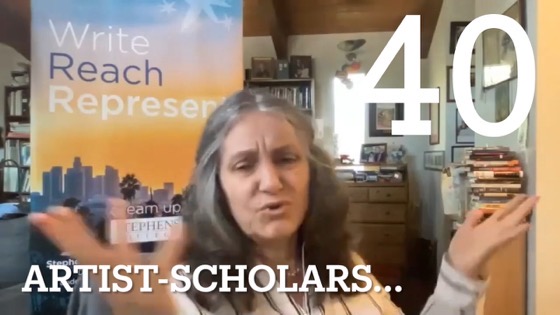 Transcript:
Rosanne: Lots of people in town actually teach at some of the various schools because of course we're in LA so there's tons of schools that have film programs and screenwriting programs and all that stuff. So you get a lot of that blend. Now I really love the fact that in Europe they're more structured around what I would call a scholar-artist because they get grants to make their films. So a lot of filmmakers are teachers at major universities and then they make movies and they get the money from the government to make the movies. We don't quite do that here, but we're seeing a little more of that. Certainly on the film festival circuit and stuff like that or you know for instance Kevin Wilmot, who got the oscar for co-writing Black Klansmen with Spike Lee, he's a full-time professor at Kansas University. That's what he does, He doesn't want to live in LA or New York. He wants to write movies and he met Spike Lee at a film festival and they each had a movie up at the film festival early on in both their careers and they decided they liked each other. Speaking of networking, they started to collaborate and you know two years ago he won an Oscar and he went back — he flew back to Kansas the next day and put his Oscar on the lectern in front of his classroom and started talking.
Host: That's so funny.
Rosanne: Yes to both worlds. That's my idea of the best of both worlds.
It's always fun to sit down with students and share stories about entering the television industry and how things work at all stages and I had that opportunity the other day.
Daniela Torres, a just-graduated (Congratulations!) student of the Columbia College Semester in LA program asked me to guest on a podcast she had recently begun hosting with another college student she met during her internship (good example of networking in action!).
We could have talked all morning (the benefit of a 3 hour class session) but we held it to about an hour and fifteen minutes or so. Hopefully, along the way I answered some questions you might have about how the business works. So often it amounts to working hard at being a better writer and gathering a group of other talented, hard-working people around you so you can all rise together.
Dr. Rosanne Welch is a television writer with credits that include Beverly Hills 90210, Picket Fences, ABCNEWS: Nightline and Touched by an Angel. She also teaches Television Writing and the Art of Film at San Jose State University.
Rosanne discusses what made shows like Beverly Hills 90210 compelling, what to do and not to do when attempting to pitch a show to broadcast or streaming, what most young writers neglect in their writing process, and much more!
The Courier Thirteen Podcast is available on YouTube, Spotify, Apple Podcasts, SoundCloud, and Audible.
Podcast: Play in new window | Download
Subscribe: Google Podcasts | RSS