It was great to be able to attend this year's SD WhoCon in San Diego and present this lecture on "The Difficulties and Delicacies of Writing the First Female Doctor in 50+ years" in which I discuss how successful I think showrunner Christopher Chibnall was in making that transition.
It gave me a chance to talk about the creative work of a showrunner/screenwriter while also reconnecting to some friends we had met at this same convention some 3 years ago – and to talk about one of my favorite subjects – Doctor Who!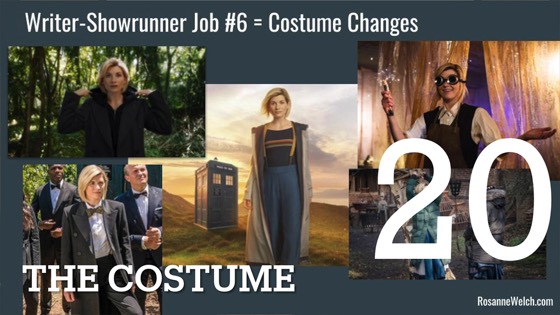 Transcript:
So of course we have to talk about the costume a little bit. Of course, he decided on that hello. I know there was a lot of chit-chat about what is that? That's not a great outfit. Here I am wearing it. I did like the one she was introduced in but all black is not good for lighting guys. It's not exciting to look at on-screen for too long but see this is where I think he was smart. I've never noticed earlier doctors changing as much and I think whether he took cosplaying into consideration or whether he just wanted to make sure she had more things to do I really appreciate it because I've seen the welding cosplay at a couple of cons. I love the tuxedo and that she's wearing the pants. I mean come on she's not gonna wear a dress. She can't run around and do important things and like save the world in a dress. So I think that they did some really interesting stuff and I like the way that he homages different people. Again Peter's in here and you know Tom is in here. Every time you got to think about how's this person going to look? What are they going to wear on a regular basis? So you know I think he did the best he could right there. Could I have designed something else? I don't know.
Watch this entire presentation
Podcast: Play in new window | Download
Subscribe: Google Podcasts | RSS