In researching and writing my book on Giuseppe and Anita Garibaldi and the unification of Italy (A Man Of Action Saving Liberty: A Novel Based On The Life Of Giuseppe Garibaldi)  I re-discovered the first American female war correspondent – Margaret Fuller — who I had first met in a college course on the Transcendentalists. I was once again fascinated by a life lived purposefully.
Then I found Tammy Rose's podcast on the Transcendentalists – Concord Days – and was delighted when she asked me to guest for a discussion of Fuller's work in Italy as both a journalist – and a nurse. — Rosanne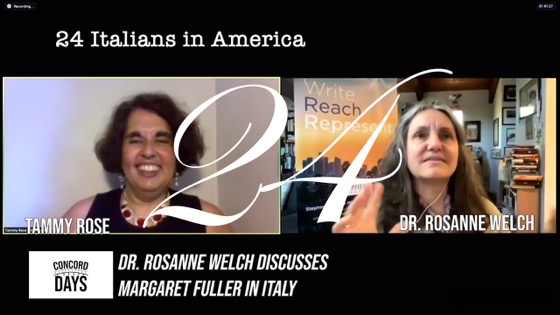 Watch this entire presentation
Concord Days sends love to Margaret Fuller on the anniversary of her death in 1850.
The conversation focuses on Margaret's exciting days in ITALY!
Dr. Rosanne Welch takes us through her adventures and enthusiastically reminds us what she was like when she was living her best life!
Transcript:
I was just going to say, yes, I wouldn't exactly use the word parallel because of course Italians were never slaves but actually, some who were shipped here were mistakenly sold into slavery because they could speak the language and nobody understood and they were dark. There are stories of that and of course, the biggest lynching — the most — the largest mass lynching in America happened to a group of Italian men in Louisiana. That's post-slavery now. Yeah it was and they weren't considered white because of that now and largely we're talking about southern Italians, Sicilians, and southern Italians because northern Italians look more swiss. They look more german. They are blonder and blue-eyed. It's Frank Sinatra versus Dean Martin. So any group that comes into this country, sadly, we sort of do the whole oh you're at the bottom of the barrel. It would say you know no dogs or dagos allowed you know. No dagos should apply for this job. There was discrimination. I'm two generations away from that so it didn't happen to me but I understood that it happened to my grandfather and I understood how that got in his way.
Podcast: Play in new window | Download
Subscribe: Google Podcasts | RSS