Watch this entire presentation: Gender Diversity in the Who-niverse: Paving the Way for a Lady Doctor with Dr. Rosanne Welch [Video] (36:58)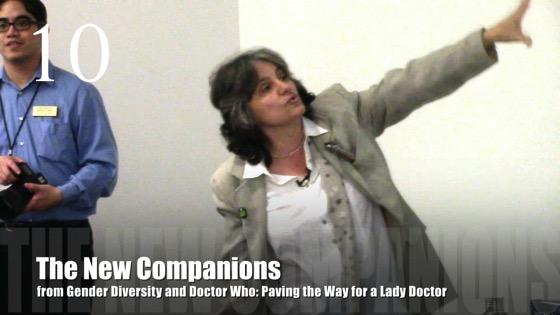 For her 5th Doctor Who lecture to the CPP community, Dr. Rosanne Welch discusses how society – and the show's writing staff – prepared the audience for a major change in this 50-year franchise – the creation of the first Lady Doctor!
Transcript:
…and through Russell, we're going to gain a new look both female and male characters particularly his first companion he is going to invent is Rose and Rose is very strong. We're going to talk about how in a minute. We're going to have Martha Jones who happens to be one of my favorite companions and I'll explain why, because Iknow there are some people don't like Martha and how she was treated. I think Martha was actually stronger than people are giving her credit for. Then, Donna Noble who was just a "friend" and there's a whole discussion about the idea that women didn't have to be a sexual or a partner companion, they could just be friends as of maybe Y'all actually have friends who are of the opposite sex. Really? That's possible? I don't know. Right? So that was a new thing. And of course, Captain Jack Harkness who was the first openly gay, but also omnisexual. He's had sex with women, men, aliens, you name it he was good for it and that was an interesting thing to be said on a television program. And he's just so gorgeous, what can you say?
Follow Dr. Welch on Twitter and Instagram
https://twitter.com/rosannewelch – http://instagram.com/drrosannewelch
---
Dr. Rosanne Welch
Dr. Rosanne Welch teaches the History of Screenwriting and One-Hour Drama for the Stephens College MFA in Screenwriting.
Writing/producing credits include Beverly Hills 90210, Picket Fences, ABCNEWS: Nightline and Touched by an Angel. In 2016 she published the book Why The Monkees Matter: Teenagers, Television and American Pop; co-edited Women in American History: A Social, Political, and Cultural Encyclopedia; and placed "Transmitting Culture Transnationally Via the Characterization of Parents in Police Procedurals" in the New Review of Film and Television Studies. Essays appear in Torchwood Declassified: Investigating Mainstream Cult Television and Doctor Who and Race: An Anthology. Welch serves as Book Reviews editor for Journal of Screenwriting and on the Editorial Advisory Board for Written By magazine, the magazine of the Writers Guild.
Watch Dr. Welch's talk "The Importance of Having a Female Voice in the Room" at the 2016 TEDxCPP.
Podcast: Play in new window | Download
Subscribe: Google Podcasts | RSS