Drs. Rosanne Welch and Sarah Clark discuss "Don't Look a Gift Horse in the Mouth" on the Zilch Podcast's Monkees 101 Series
As you know I always LOVE talking television so when fellow Dr. Sarah Clark of Zilch Nation asked me a while back if I'd like to cohost an ongoing segment of Zilch where we analyze each of the 58  episodes of The Monkees — I jumped at the chance.
Even though I did a lot of this work in the book – I couldn't cover all the episodes so this segment allows us to take one at a time and do our own critical studies and popular culture coverage.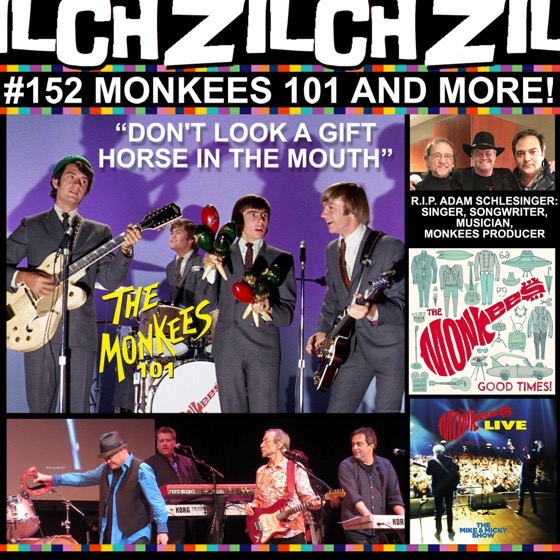 Monkees 101 with Rosanne Welch and Sarah Clark discuss the 8th episode of "The Monkees" -"Don't Look a Gift Horse in the Mouth",  Anthony Pomes reviews the new Micky & Mike Live CD, Bob & Bethany Kriger Thies Do a song dealing with C-19 as only Monkees fans could. We dedicate this episode to Adam Schlesinger Singer-songwriter and Producer, Thank you for being part of The Monkees story and understanding them and us.
Podcast: Play in new window | Download
Subscribe: Google Podcasts | RSS
---
Want to learn more about The Monkees? Buy Why The Monkees Matter: Teenagers, Television and American Pop Culture
A hit television show about a fictitious rock band, The Monkees (1966-1968) earned two Emmys–Outstanding Comedy Series and Outstanding Directorial Acheivement in Comedy.

Capitalizing on the show's success, the actual band formed by the actors, at their peak, sold more albums than The Beatles and The Rolling Stones combined, and set the stage for other musical TV characters from The Partridge Family to Hannah Montana. In the late 1980s, the Monkees began a series of reunion tours that continued into their 50th anniversary.

This book tells the story of The Monkees and how the show changed television, introducing a new generation to the fourth-wall-breaking slapstick created by Laurel and Hardy and the Marx Brothers.

Its creators contributed to the innovative film and television of 1970s with projects like Bob & Carol & Ted & Alice, The Mary Tyler Moore Show, Laugh-In and Welcome Back, Kotter. Immense profits from the show, its music and its merchandising funded the producers' move into films such as Head, Easy Riderand Five Easy Pieces.
McFarland (Direct from Publisher) | Amazon | Kindle Edition | Nook Edition
Want to use "Why The Monkees Matter" in your classroom?
Order Examination Copies, Library and Campus Bookstore orders directly from McFarland